Epson CV2 Vision Systems – Increased Performance with Faster Processing, More Cameras, Higher Resolution Support and much more
Carson, CA - May 27, 2015 - Epson Robots, a global leader in advanced robotic and factory automation technology, introduces the new Epson CV2 Vision Systems. With speeds up to 8x faster than our popular CV1 vision systems, Epson CV2 Vision Systems provide tremendous processing power to help reduce cycle times and increase throughput. Also, as an integrated part of our EPSON RC+ development environment, Epson CV2 Vision Systems with Vision Guide Software help to tremendously reduce overall development time for vision guidance applications for robots as well as vision based inspection applications.

"Epson Vision Guide leads the industry in ease of use for vision guidance applications but our customers continue to push us for more. More speed, more cameras, more resolution and more vision tools. The Epson CV2 Vision Systems provide all that and more" stated Michael Ferrara, Director of Epson Robots. "Powerfully simple" is what customers call our Vision Guide based vision products.
For more than 15 years, Epson Vision Guide has been used in factories throughout the world to allow Epson Robots to "see". With a unique object based point and click interface, Vision Guide allows developers to quickly develop applications in hours vs. weeks or longer. But dont let the easy to use interface fool you. Vision Guide is packed with powerful vision tools designed to help solve the toughest of vision related applications. Included as standard features are Find Tools (Geometric Search, Normalized Correlation, Blob Analysis, Polar Search, Line and Arc Finders and more), Inspection Tools (Line Inspector, Arc Inspector, and Defect Finder), Construction Tools (Frames, Lines, Points), Color Match Tools, Code Reader, OCR and much more. Also included are the "vision to robot" calibration tools that take just minutes to setup for mobile and fixed camera calibration settings. And the best part is that Vision Guide is completely and seamlessly integrated into the Epson RC+ Development Environment which helps to reduce overall development time and save money.
At the heart of Vision Guide is the unique object based point and click interface which allows users to easily define ROIs and apply vision tools by simply dragging and dropping objects onto the image display area. Objects are strung together in a sequence to build a vision application quickly and easily. For example, a Geometric Search Tool could be used to find specific points of interest on a part and then line tools could be applied on top of the Geometric Search Tools to then determine the distance between the 2 points of interest on a part. Once the distance is checked and the part passes inspection, coordinates from the found location are automatically converted to robot coordinates and the robot moves to pick up the part using those coordinates including X, Y position and rotation.
Epson CV2 Vision Systems take performance to the next level providing powerful vision guidance and inspection solutions at a value price. They contain powerful CPUs and vision processing that runs in parallel with the Epson RC90 or RC700 Controllers allowing for maximum throughput. With the tight integration to Epson RC+, Epson CV2 Vision Systems are easily programmed via the industry leading Epson RC+ Development Environment. A point and click interface reduces development time from weeks to hours so no time is wasted solving your next robot guidance application. Two (2) core models are available depending on speed requirements. (CV2-S and CV2-H with the CV2-H being approximately 2x the speed of the CV2-S).
All Epson CV2 Vision Systems are equipped with high flex cables (Ethernet or USB). By using high flex cables as standard with all CV2 Vision Systems, the Epson CV2 Cameras can be mounted to the robot arm (mobile) or mounted to a fixture (fixed). Wizard based calibration makes robot to vision system calibration a snap and allows for upward or downward camera calibrations.
With the Epson CV2 Vision Systems, both GigE and USB 2.0 cameras are supported. Up to 6 cameras (4 GigE AND 2 USB 2.0) can be connected to 1 CV2 Vision System. (2 CV2 Vision Systems can be used per robot controller) The standard Epson CV2 Vision System comes with a 640x480 resolution camera (GigE or USB). However, 2 Megapixel (1600x1200) and 5 Megapixel (2560x1920) cameras are available for high precision applications or when a larger field of view is required. Color cameras are also available up to 5 Megapixels in resolution.
Epson Robots is the global leader in PC controlled precision factory automation, with an installed base of well over 45,000 robots and a product line of hundreds of models of easy to use SCARA, Cartesian and 6 axis robots based on a common PC based platform. Building on a 30 year heritage, Epson Robots today delivers robots for precision assembly and material handling applications in the aerospace, appliance, automotive, biotechnology, consumer product, electronics, food processing, medical device, plastics, pharmaceutical, semiconductor, and telecommunication industries. More information can be found on the companys website at www.epsonrobots.com, or contact us at Epson Robots, 18300 Central Avenue, Carson, CA 90746, USA.
For more information, call +1.562.290.5910 or go to www.epsonrobots.com
Featured Product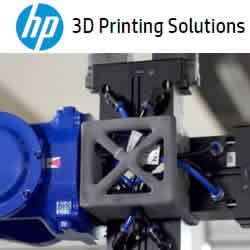 From molds to final and spare parts, produce quality 3D printed parts with optimal mechanical properties without the long lead times. See how HP 3D Printing with HP Multi Jet Fusion helps these companies reinvent the design and manufacturing of custom robotics and grippers.