Exhibit Supported by Google.org Features Muscles Yume Robo and Begins National Tour in Chicago
Santa Clara, CA , June 2, 2015 - Muscle Robotics, Inc, a subsidiary of Muscle Corporation, Osaka Japan, announced the company's "Yume Robo" is featured at Robot Revolution, supported by Google.org, a new national touring exhibit now open at the Museum of Science and Industry, Chicago (MSI).

Robot Revolution explores how robots, created by human ingenuity, will ultimately be our companions and colleagues, changing how we play, live and work together. The exhibit allows guests to step into a visionary world where robots are not just a curiosity, but a vital asset.
The exhibit comes to life with a collection of cutting-edge robots that have been secured from some of the most innovative global robotics companies and universities.
Yume Robo welcomes guests at the entrance to the exhibit. "Yume Robo was developed by Muscle Corporation as a symbol for building and executing innovative dreams for 2010 Shang"hai EXPO. The Yume Robo project pushed us to enter into the robotics business along with Cool Muscle, a servo motor business," said Mr. Hirofumi Tamai, President of Muscle Robotics and Muscle Corporation.
"Due to its integrated power supply, control, drivers and I/O in a motor, Cool Muscle has made it possible to make the controller enclosure-less system, and allowing the robot to climb up and down all day if needed," according to Mr. Eimei Onaga, Vice President of Muscle Robotics.
"Robotics is a truly fascinating field and it's one that is growing exponentially," said David Mosena, president and CEO of the Museum of Science and Industry, Chicago. "This exhibit, in a fun and engaging way, helps answer questions like: How do robots work? How will they potentially change our lives? How can I get involved in robotics? We are thrilled to bring this cutting-edge content to MSI and to tour it to other science museums around the nation."
MSIs Robot Revolution exhibit development team worked with a renowned group of robotics experts to offer insight on exhibit content. This team of advisors includes lead advisor Dr. Henrik I. Christensen, KUKA Chair of Robotics at the College of Computing of Georgia Institute of Technology and executive director of the Institute for Robotics and Intelligent Machines, as well as Dr. Dennis Hong, professor and founding director of RoMeLa (Robotics & Mechanisms Laboratory) of the Mechanical & Aerospace Engineering Department at UCLA.
The exhibit features four areas that delve into various aspects of robotics and offer specific hands-on activities with amazing robot specimens, as well as dynamic videos that feature Dr. Hong.
Throughout Robot Revolution, hands-on elements, intriguing video and thought-provoking questions enable guests to recognize the amazing ways that robotics can better society.
"We believe it is vital to inspire the next generation of engineers and tech entrepreneurs so that we can continue to see technology change the world," said Jim Lecinski, head of Google's Chicago office. "Google is happy to support MSI's Robot Revolution exhibit to make complex concepts accessible to kids of all ages and to get them excited about science, technology, engineering and math."
Robot Revolution is supported by Google.org with additional support from The Boeing Company, RACO Industrial, The David Bohnett Foundation, The Kaplan Foundation and official airline United Airlines. This exhibit will run at MSI through January 3, 2016, and then will continue on its tour within the United States. For more information and to purchase tickets, visit msichicago.org.
MSI is grateful to the Japanese External Trade Organization (JETRO), the Institute for Electrical and Electronics Engineers-Robotics and Automation Society (IEEE RAS) and ITA, Inc. for their assistance with the development of this exhibit.
About Muscle Robotics, Inc.
Muscle Robotics, Inc. was founded in April 2011 and is a subsidiary of Muscle Corporation located in Osaka, Japan. In May 1988 Muscle Cooperation was established by an engineer with a dream to create solutions to help and contribute to peoples lives & work. Six years later, the company received investment trust funds from the Osaka Research and Development Company Association. In its tenth year, Muscle Corporation developed its first product approved by the FDA (Food and Drug Administration) and started exporting medical devices to a large medical company in the USA. Starting in 2010, Muscle Corporation has been developing robots such as Yume Robo and Sasuke, the caretaker assist robot to improve living of aging society. More information can be found at www.musclerobotics.com and http://www.musclecorp.com.
About The Museum of Science and Industry, Chicago (MSI)
MSI, one of the largest science museums in the world, offers world-class and uniquely interactive experiences that inspire inventive genius and foster curiosity. From groundbreaking and award-winning exhibits that cant be found anywhere else, to hands-on opportunities that make you the scientist—a visit to MSI is where fun and learning mix. Through its Center for the Advancement of Science Education (CASE), the Museum offers a variety of student, teacher and family programs that make a difference in communities and contribute to MSIs larger vision: to inspire and motivate children to achieve their full potential in science, technology, medicine and engineering. Come visit and find your inspiration! MSI is open 9:30-4 p.m. every day except Thanksgiving and Christmas day. Extended hours, until 5:30 p.m., are offered during peak periods. The Museum is grateful for the support of its donors and guests, who make its work possible. MSI is also supported in part by the people of Chicago through the Chicago Park District. For more information, visit msichicago.orgor call (773) 684-1414 or (800) GO-TO-MSI outside of the Chicago area.
Featured Product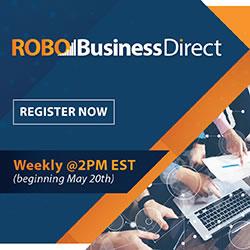 RoboBusiness Direct is built to foster robotics innovation in all its forms, expand robotics business opportunities, and build a community of like-minded problem solvers with the goal of driving the growth of robotics businesses. More than a webinar or virtual event, RoboBusiness Direct is an ongoing, integrated series of presentations and media coverage delivered by brightest minds from the leading robotics and automation companies from around the world - Nuro, FedEx, Lockheed Martin, Samsung, Siemens and more.