The new iglide L500 material is suitable for applications in fans and electric motors, among others.
With the new iglide L500 material, igus, the motion plastics expert, has announced the release of their newest specialist bearing solution, ideally suited for continuous operation in high-speed rotation applications under low loads. The L500 material combines extraordinary wear resistance in long-running, high speed applications. Continuous rotational speeds of more than 16 ft./s are possible, and the L500 material performs even under extreme environmental conditions, such as temperature ranging from -148º to 482º F, as well as media contact. The L500 material is characterized by its low moisture absorption and thermal expansion, among others.

Dry-running, wear resistant alternatives to sintered bearings
For applications with high speeds and low loads, sintered bearings are often used, in electric motors, for instance. Due to their structure, sintered bearings are more vulnerable to shocks and edge loads than solid bearings. Additionally, a sintered bearings oil impregnation limits the operating temperature range, and is unsuitable for operation without external lubrication. In comparison tests between sintered bearings and bearings made of the iglide L500 material, the wear rates of sintered bearings were higher in all tested speeds, in some cases by more than five-fold. These positive material properties of the iglide L500 allow the self-lubricating operation of electric motors, fans, and ventilators, where sintered bearings were previously used. The standard range of RoHS-compliant L500 bearings will be available from stock this summer. Additionally, the L500 material will also be available for the development and production of customer-specific bearing solutions.
About igus
igus develops industry-leading Energy Chain cable carriers, Chainflex Motion Cables, DryLin linear bearings and linear guides, iglide plastic bushings, and igubal spherical bearings. These seemingly unrelated products are linked together through a belief in making functionally advanced, yet affordable plastic components and assemblies. With plastic bearing experience since 1964, cable carrier experience since 1971 and Motion Cables since 1989, igus provides the right solution from over 100,000 products available from stock. No minimum order required. For more information, contact igus at 1-800-521-2747 or visit www.igus.com.
Featured Product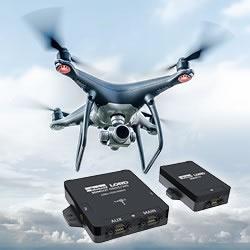 The new complete inertial navigation solution comes with GNSS/INS 3DMGQ7 sensor, 3DMRTK correction modem and real time SensorCloud RTK correction network. The sensor comes with Dual antenna GNSS, tactical grade IMU with centimeter-level accuracy with RTK. Low profile and light weight at 78 grams, this sensor is The sensor is optimized for size and weight in Unmanned Ground Vehicles, mobile robots and autonomous vehicles. The network interface 3DMRTK modem is seamlessly integrated into the 3DMGQ7 sensor supports industry-standard NMEA and RTCM 3.1 protocols. The network RTK support comes with cellular data plan. The SensorCloud RTK is a cloud-based RTK correction system with private encrypted data stream. Check out our G Series and C Series OEM products.