German-based Moenninghoff and R.M. Hoffman Company are introducing a new partnership that will bring Moenninghoff tooth clutch, high-precision voice coil actuator, and robust flexible coupling products to new markets.
Sunnyvale, CA June 02, 2015

German-based Moenninghoff has designated the R.M. Hoffman Company as their official United States distributor for the Moenninghoff product line.
Moenninghoff President Bodo Finger stated, "I am pleased to announce that the R.M. Hoffman Company will be representing Moenninghoff in the U.S. market. For our firm, founded in 1916, this is a strategically important step. We are convinced that R.M. Hoffman is the kind of professional distributor we need to successfully grow our business in the United States. We especially believe in these joint efforts due to the high technical competence and experience that R.M. Hoffman represents. Working together, we can link our high-precision engineering solutions with R.M. Hoffman Companys in-depth knowledge of the market."
Tom Hoffman, President and CEO of R.M. Hoffman Company, added, "We are excited about being able to bring Moenninghoff products to engineers and designers in the United States. We are particularly excited to bring Moenninghoffs high-quality tooth clutches, high-precision voice coil actuators, and robust flexible couplings to U.S. design engineers."
Moenninghoff tooth clutches provide fixed-point switching for the precise synchronization needed for medical engineering applications, packaging machines, aeronautical engineering, door-mounted operating mechanisms, printing machines, ski lifts, and textile machines.
Voice coil actuators are highly-dynamic DC linear drives with a limited stroke range which are used as extremely high-precision positioning drives, oscillating drives with adjustable frequency or in adjustable-force mode. Voice coils are particularly suited to pick-and-place tasks in assembly and packaging machines, high-speed production machines and systems for guiding and focusing laser beams.
Shaft couplings with flexible circular membranes or torsionally-flexible elastomer elements serve to compensate for misalignment in the drive train or for shock loads and critical oscillations. Flexible couplings cater to a whole range of industrial applications; from the smallest servo engineering drives to the kinds of shaft connections found in marine engineering contexts, which are subject to high loads.
About R.M. Hoffman Company
R.M. Hoffman Company is a premier engineering resource, offering distribution, product modification, custom design, and assembly services to clients in the semiconductor, medical and biotech, defense, factory automation, and cartoning/packaging equipment industries. For more information please visit http://www.rmhoffman.com or call 408-739-6580.
About Moenninghoff
Moenninghoff has provided qualified, innovative engineering of uncompromising quality since 1916. Moenninghoff Power Transmission offers a range of high-quality components for a host of different applications: high-precision electromagnetic clutches, tooth clutches and multiple disc clutches, overload clutches with various operating principles, couplings and voice coil actuators.
Featured Product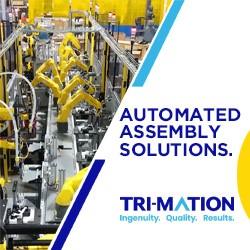 Tri-Mation reduces labor costs, improves accuracy, and production speed. Our integrators specialize in building automated assembly manufacturing systems for part production in any required volume or level of complexity.