Designed for many industrial automation, quality assurance, security, and medical applications, NEXCOMs new ROKA series of Gigabit Ethernet cameras is a low cost yet highly versatile imaging solution.
NEXCOMs new ROKA series allows for clear sight to machine automation systems, enabling production to pick up the pace and quality inspection procedures to be held to high standards. Aimed at machine vision for industrial applications, the imaging solution encompasses a selection of cameras, lenses, and lights to capture quality images for use in robot guidance, object recognition, and defect inspection applications.

To fulfill different speed and precision requirements of machine automation processes, NEXCOM ROKA cameras offer three combinations of image capture resolutions and frame rates. The ROKA 30 is a 0.3-megapixel camera which can generate one hundred images per second. The high-speed camera can accelerate machining processes by providing workpiece alignments and giving visual guidance with reduced cycle time; and help with tasks such as time-consuming 100% inspection, mundane pallet stacking, and dangerous heavy lifting.  
The ROKA 130 has a higher resolution of 1.3 megapixel and 60 fps. The ROKA 130 can perform profile inspection on metal parts and components and collaborate with pick-and-place robots on material sorting and product packaging. Meanwhile, the ROKA 500 featuring 5-megapixel capability and 15 fps support is intended for high precision inspection. With manufactured parts shrinking in size and demand for precision growing stringent, the ROKA 500 can find defects with tolerance measured in hundredths of a millimeter, capturing subtle nuances that are hardly visible to the human eye.  
To provide optimum angle of coverage for machine vision, the ROKA series offers RK-C1614, RK-C2514 and RK-C3518 lenses with field-of-view of 37.2, 24.7, and 18 degrees, respectively, to adapt to the dimensions of an inspection area. Also, the ROKA series is available with an LED bar array light, backlight, and ring light which are designed to create multi-angle illumination, even and low-density lighting, and area lighting to enhance image capture quality.  
NEXCOM ROKA machine vision series belongs to NEXCOM NexMotion machine automation solution family which consists of motion control platform, machine vision, SoftMotion programming tools, servo motors and I/O modules to build industrial robots, distributed control systems, general motion control systems, and CNC machines.
About NEXCOM: Founded in 1992, NEXCOM integrates its capabilities and operates six global businesses, which are Multi-Media Solutions, Mobile Computing Solutions, IoT Automation Solutions, Network and Communication Solutions, Intelligent Digital Security, and Medical and Healthcare Informatics. NEXCOM serves its customers worldwide through its subsidiaries in five major industrial countries. Under the IoT megatrend, NEXCOM expands its offerings with solutions in emerging applications including IoT, robot, connected cars, Industry 4.0, and industrial security.
Featured Product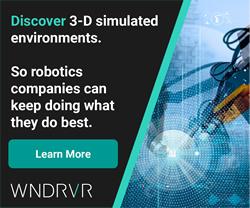 Advances in AI and deep machine learning have ushered in incredible potential for ground-based, aerial, and maritime robotics. Robotics is moving from an opportunity in business and facility operations to a necessity in many industries. As a result, organizations must plan for multi-vendor robots, intelligent traffic flows, storage, and more.