Company with 24 year history in robotics, invests in advanced workforce training and tools to meet accelerated demand for industrial robotics programming and integration expertise in manufacturing.
Auburn Hills, MI June 11, 2015

Patti Engineering, Inc., a leader in control system integration, today released details of its strong momentum in securing industrial robotics programming and integration projects. In late 2014, Patti Engineering joined the Robotic Industries Association (RIA), a non-profit trade association dedicated to improving the regional, national, and global competitiveness of the North American manufacturing and service sectors through promotion and enhancement of robotics and related automation.
The use of robotics in industrial settings is on the rise. While factories have long leveraged industrial robots, advances in vision sensors, gripping systems, and information technology have made robots smarter, more easily networked, and immeasurably more useful in a wider range of applications.
Patti Engineering is a certified FANUC integrator, a certified COMAU integrator, a certified Kawasaki robotic integrator, and pursuing its RIA certification. In addition, the company has completed many successful projects with ABB Robots and KUKA Robots.
At the inception of Patti Engineering, the company focused on emerging robotics technology in manufacturing. Its first customer, FANUC Robotics, contracted the engineering firm to work on its customized PLC programs and its proprietary PaintWORKS, Graphic User Interface (GUI) software. In 24 years of business, Patti Engineering has seen unwavering interest and success with robotic systems and factory automation control systems.
"As robotics has grown at an accelerated rate, we have invested significantly in keeping pace with the cutting-edge advances in robotics. Our engineers continue to refine their robotic capabilities with training and certification opportunities; we have also invested in an in-house robot for testing and training," said Sam Hoff, CEO, Patti Engineering. "Our main goal is preparedness for customers who need/want to take advantage of robotics advancement. Working with robotics can offer some of the best opportunities for manufacturers to sharply improve productivity, so long as its done right. We strive at Patti Engineering to be a trusted resource to our customers; offering solutions rather than offering engineering service at an hourly rate."
About Patti Engineering, Inc.
Patti Engineering, Inc. is a CSIA Certified control systems integration company offering high-caliber engineering and software development services. Patti Engineerings technical expertise in electrical control and information systems provides turnkey control systems integration for design/build, upgrade/retrofit and asset/energy management projects. Industrial automation, production intelligence and shop floor IT solutions services include: project management, electrical engineering, hardware design, hardware procurement, software development, installation, calibration, start-up testing, verification, documentation, training and warranty support. Customer satisfaction and project success earned the company placement in the Control Engineering Magazines Hall of Fame. For more information, visit http://www.pattieng.com.
Featured Product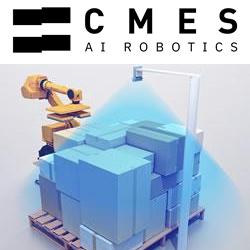 Powered by AI, CMES Robotics enables 3D vision for factory robots. CMES AI vision software enables robots to recognize unstructured, flexible, or deformed objects, pick them up, and loading and unloading. CMES Vision software has been deployed worldwide for random palletization and depalletization along with void filling applications. CMES Robotics automates your warehouse, logistics, and supply chain. For more information, please visit: cmesrobotics.com or email info@cmesrobotics.com.