More than 13 million industrial designers are now part of the engineering community with access to TraceParts CAD content
Saint-Romain, France, 17 June 2015 - TracePartsOnline.net, the platform created by TraceParts in 2001, provides free access to the CAD models and technical specifications of hundreds of millions of industrial components, ranging from simple screws and bolts to electronic or mechanical sub-assemblies, such as current transformers or linear motion modules.

Hosting these components in the Cloud offers quick and simple download services for 2D/3D CAD files in the most popular native formats, thereby ensuring design professionals have access to the latest updates of product files.
The entire technical data base is shared with numerous CAD and PLM publishers, such as SOLIDWORKS, Autodesk, PTC and Siemens PLM and their user clients, i.e. almost 13 million designers working on projects in fields as diverse as electronics, mechanics, architecture and aerospace. Designers can select the CAD format of the 3D model they want to download, ensuring the interoperability of data use with any CAD software, from design to manufacturing.
The TraceParts Publishing Network enables design offices to significantly reduce their design cycles by downloading 3D files of the components they need, rather than valuable spending time modelling them.
"By making their data freely available to 13 million potential buyers, our manufacturing and distribution clients in the TraceParts Publishing Network increase their chances of being selected for new projects. From their point of view, the network represents a valuable sales and marketing tool, particularly considering that 80% of the products downloaded are actually ordered afterwards," explains Gabriel Guigue, the Managing Director of TraceParts.
You will find further information about TraceParts publishing network at traceparts.com/tppn/
Industrial component suppliers interested in publishing their CAD and technical data may contact TraceParts by email at info@traceparts.com or visit its website at www.traceparts.com
About TraceParts
TraceParts is a world-leading digital engineering 3D content company, offering progressive business solutions through powerful web based products and services.
TraceParts brings targeted and cost-effective market penetration to parts vendors, in all sectors of industry.
The TracePartsOnline.net CAD portal is freely available to millions of CAD users worldwide, with hundreds of supplier catalogs and 100 million CAD models and product datasheets suitable for the Design, Purchasing, Manufacturing and Maintenance processes. For more information about TraceParts, please visit www.traceparts.com
Featured Product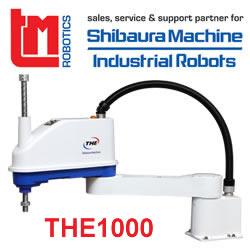 Designed for assembly and inspection applications in the electronics equipment and automobile components industries, the THE600 SCARA is a powerful automation tool. Advancing from the specifications of the existing THE400 SCARA, the THE600 has been developed to meet growing demand for fast-cycle automation. The THE600 model includes improvements in synchronised control and tracking precision. The THE600 is compact in design and offers improved high speed, with 60 per cent higher payload capacity than competing SCARA models in the same price range, making it the price-to-performance leader. Affordable price, impressive performance.