"Barrett Technology is not only creating jobs in Newton and strengthening the local economy, but bringing products to market that will help revolutionize the global health care industry"
July 02, 2015

Newton, Massachusetts, USA - The State of Massachusetts contains an extraordinary entrepreneurial ecosystem with world-class companies, and Massachusetts intelligently supports some of the best of these companies that demonstrate the greatest potential for success.
Barrett Technology won two Massachusetts grants this past week. These grants will support two promising products: Proficio a force-modulated robot arm that applies engaging therapy for victims of stroke and other neurological disorders; and the Puck, an ultraminiature high-performance motor controller that is the key to success of Proficio and all other Barrett robots, such as the WAM Arm and BarrettHand.
"Barrett Technology is not only creating jobs in Newton and strengthening the local economy, but bringing products to market that will help revolutionize the global health care industry," according to Congressman Joe Kennedy. "With continued investment and grants from organizations like MLSC and MassVentures, we can ensure that our Commonwealth remains a leader in the biotech sector through companies like Barrett Technology."
Mass Life Sciences Center (MLSC), awarded Barrett a $200,000 grant through its Universal Partnership Program (UP), which promotes collaborations between top Massachusetts life-sciences companies and international partners. The grant will support collaboration between Barrett and Sweden-based SenseGraphics to develop engaging software that allows the user to feel 3D objects within an engaging game.
According to Massachusetts Governor Charlie Baker, "As the global leader in life sciences, Massachusetts has a unique ability to collaborate with companies in other parts of the world to improve health care through innovation. I'm excited to see the results and the impact of these international partnerships." MLSC VP Pamela Norton adds, "Our review panel is particularly excited about Barrett's Proficio. It is just the right device to support our value-conscious healthcare system."
MassVentures, the State's VC arm and administer of the START program awarded Barrett $100,000 to help commercialize the Puck. The START program funds small companies that are on the path to commercialization. In the four years since its inception, it has awarded $2 million to 40 promising projects. According to Jerry Bird, president of MassVentures, "We are excited about the potential of Barrett's Puck technology. As a START winner, Barrett Technology will not only receive the grant, but expert mentoring and support through our comprehensive program. The Barrett team and technology is aligning itself for success and we look forward to supporting its continued growth."
"We are grateful to the State of Massachusetts for making these funds available," said Dr. Bill Townsend, CEO of Barrett. "It is with these funds that Barrett will begin commercializing Proficio and the Puck, leading towards a meaningful impact on the Massachusetts economy by increasing exports and creating jobs."
Therapy with a Puck-enabled Proficio allows the user to see and feel 3D objects.
About MassVentures
MassVentures is a venture capital firm focused on fueling the Massachusetts' innovation economy by funding early-stage, high-growth Massachusetts startups as they move from concept to commercialization. MassVentures focuses on Series A investments with occasional and opportunistic seed rounds. Its track record of success combined with our expertise, contacts and support for entrepreneurs makes MassVentures an attractive venture partner for early-stage companies in Massachusetts. Learn more at www.mass-ventures.com.
About the Massachusetts Life Sciences Center (MLSC)
MLSC is an investment agency that supports life sciences innovation, research, development, and commercialization. The MLSC is charged with implementing a 10-year, $1-billion, state-funded investment initiative. These investments create jobs and support advances that improve health and wellbeing. The MLSC offers the nation's most comprehensive set of incentives and collaborative programs targeted to the life sciences ecosystem. These programs propel the growth that has made Massachusetts the global leader in life sciences. The MLSC creates new models for collaboration and partners with organizations, both public and private, around the world to promote innovation in the life sciences. For more information, go to www.masslifesciences.com.
About Barrett Technology
Barrett is the technology leader in high-performance robotic arms and hands for emerging applications requiring superior versatility. Barrett has pioneered advanced motor controls, for example its Puck, to enable the best force-controlled performance available; and its gearless transmissions are in a league of their own. To leverage these capabilities, its control architecture is totally open source with an active user community rapidly adding to a growing code base.
Featured Product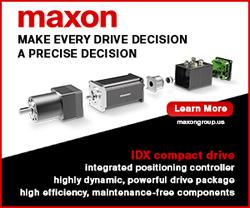 The compact brushless EC-i motor combined with an EPOS4 positioning controller delivers a highly dynamic, powerful drive package with field-oriented control (FOC), high efficiency, and maintenance-free components in a high-quality industrial housing. The maxon IDX drives are suitable for use across the entire speed range (from standstill to maximum speed) and have an extremely high overload capability. Together with a positioning controller, the integrated sensor (single turn) enables absolute positioning.