The partnership of EXOR and NEXCOM will leverage the synergy of the two companies to enlarge and improve the quality of global offerings to the IoT automation market.
NEXCOM International Co. and EXOR International are proud to announce a technology and business partnership to enforce their worldwide presence in the automation and IT market, developing new HMI functions to fulfill the vision of Industry 4.0. Based on close, solid cooperation between the two companies, NEXCOM has acted on EXORs proposition by investing in the capital of EXOR International for 19.99% of the company.

To achieve Industry 4.0's vision for smart manufacturing, NEXCOM has proposed PC-based IoT Automation Solutions consisting of intelligent controllers, IoT automation gateways, and big data collectors. Under the partnership, NEXCOM expands its product portfolio to EXORs virtualized human machine interface (HMI), a key element to Industry 4.0, offering all-around IoT Automation Solutions. Further, EXOR will extend its presence into the Asian market and grow JMobile platform to ensure global offering.
EXOR, with headquarters in Verona, Italy, is an international leading HMI supplier. EXOR HMI solutions span over industrial automation with an expertise in satisfying vertical markets and embedded design solutions.
NEXCOM, headquartered in Taipei, Taiwan, is a leading international manufacturer of IoT Automation Solutions that offers comprehensive industrial computing solutions.
The partnership will leverage the synergy of EXOR and NEXCOM to enlarge and improve the quality of global offerings to the market, strengthen production capability, and enhance post-sales service with general maintenance and repair centers in Europe and Asia.
Co-development of new products will meet global demand of "ready-to-use products" with a stronger platform and exceptional time to market. Global service will be provided 24/7 to the needs of the market and customers. Think global, act local!
# # #
About EXOR International S.p.A.: Since the early '90s Exor has devoted its development skills to the creation of Modern HMI & Controls. Today, Exor International is recognized as one of the leaders in HMI & Control with its products JMobile and Glass Touch. Exor International product offering and organization has secured, in the years, strategic brand label customer and major distributors worldwide and is known as the company able to fully support customers and respond to the market. Projects management, international experience, and professional staff have consolidated the existing partnership and created a new and exciting one. Exor Internationals proactive attitude in developing new products puts partners at ease on their own applications and response to their market demand. www.exorint.net
About NEXCOM: Founded in 1992, NEXCOM integrates its capabilities and operates six global businesses, which are Multi-Media Solutions, Mobile Computing Solutions, IoT Automation Solutions, Network and Communication Solutions, Intelligent Digital Security, and Medical and Healthcare Informatics. NEXCOM serves its customers worldwide through its subsidiaries in five major industrial countries. Under the IoT megatrend, NEXCOM expands its offerings with solutions in emerging applications including IoT, robotics, connected cars, Industry 4.0, and industrial security. www.nexcom.com
Featured Product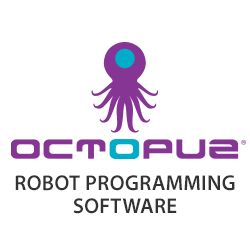 OCTOPUZ makes complex robot programming simple through cutting-edge Offline Robot Programming Software (OLRP) that enables detailed robot operations, complete with machinery and manufacturing components, to be first simulated on a computer, then output for the real world. Within this virtual cell, OCTOPUZ uses built-in machine logic to identify the optimal toolpath trajectory and program the required code for a multitude of industrial tasks. The code is then output for the specific robot brand, for use in the real world.