Safety, clean room, process control, and handling and gripping are among the integrated systems featured. The company is also displaying a number of new products, including the SBSI low cost, versatile, vision sensor. (Festo Semicon West Booth # 1129)
Hauppauge, NY July 13, 2015

Festo showcases innovative integrated solutions in San Francisco at the Moscone Center during Semicon West, July 14-16. These safety, clean room, process control, and handling and gripping systems are designed to decrease engineering costs and shorten time to market for semiconductor and solar power OEMs. Festo also features a number of standalone components, including the new SBSI smart vision sensor and semiconductor specific pilot valve solutions. (Festo Semicon West Booth #1129)
Designing safety into a machine or process and then acquiring and assembling components is complex, time consuming, and costly for OEMs. The dynamic safety demonstration at the Festo booth illustrates how customers, working with Festo application engineers, can achieve Category 4 Performance Level e safety at a fraction of the cost of an in-house program.
The Festo system on display integrates the companys safety valve, actuators, and sensors into a safety PLC control architecture. The dynamic safety demonstration allows booth visitors to experience first-hand rapid machine shut down.
The gripper handling dynamic demonstration features a bellows gripper for handling from inside surfaces, the innovative fin gripper that conforms to the shape of the work piece - even the most oddly shaped objects - and the no-mark gripper that handles delicate surfaces and leaves not a trace.
The liquid and gas dynamic process control demonstration features a range of valves integrated onto the Festo automation platform, the CPX system, into a streamlined control architecture.
The clean room static display showcases a variety of Festo components capable of being used in a clean room environment, as they have been tested and verified in regards to conformance. This enables a variety of automated tasks to be performed in the cleanroom, eliminating manual intervention.
Also of interest are the semiconductor specific pilot valve solutions from Festo. They include miniaturized compact manifold systems optimized in density for gasbox control. The base unit is able to be customized to specific customer requirements regarding pinouts and control. This is due to the modular design. Festo is also able to provide interlock functions on the compact valve series VTUG enabling customers to implement specific safety measures very simply and economically.
The small, lightweight SBSI vision sensor which, can be used as a high-performance code reader is one of several new products on display. The SBSI also perform quality inspections such as completeness checks or position detection.
Other featured products include the EPCO compact electric actuator, DRRD rotary actuator, and the innovative handling system EXCM mini-H gantry. This X/Y planar gantry system is fast, accurate, modular, and flexible. It is also plug-and-work for quick and easy start up.
"Festo is known for its expertise in providing solutions that cut time to market and engineering costs for customers," said Damon Turley, Industry Segment Manager, Electronics and Assembly. "Festo is also recognized for product performance, quality, and a high level of technical support. The integrated systems and components Festo is bringing to Semicon West 2015 will be of great interest to the semiconductor and solar industries."
For more information on Festo integrated solutions and products call 800-993-3786 and visit http://www.festo.com/us. And stop by the Festo Booth #1129 at Semicon West 2015 to see the Bionic Boot.
Featured Product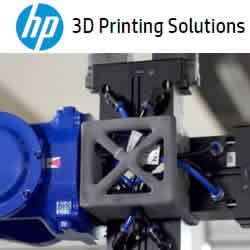 From molds to final and spare parts, produce quality 3D printed parts with optimal mechanical properties without the long lead times. See how HP 3D Printing with HP Multi Jet Fusion helps these companies reinvent the design and manufacturing of custom robotics and grippers.