Smart, manufacturing robots to stimulate innovation in Asian markets
TAIPEI, Taiwan, July 10, 2015 -- Rethink Robotics, in collaboration with Epoch Foundation, is expanding its operations in Asia and opening an office at Garage+ Incubation Center (www.garageplus.asia) in Taipei. As a pioneer in the collaborative robotics market, Rethink Robotics develops robots specifically designed to operate in variable manufacturing environments alongside humans, without the need for traditional safety cages. The Boston-based company is redefining manufacturing across the globe, and is now extending its innovative automation solutions into Asia, beginning in Taiwan.

The Epoch Foundation is supported by leading tech corporations in Asia and has been providing education and support to entrepreneurs for 13 years. Through its Garage+ Incubation Center initiative launched in 2012, it has fostered the development of a thriving tech startup community in Asia. As of 2015, more than 60 startups have engaged and worked with Garage+. As part of its Asian expansion, Rethink Robotics has hired its first full-time employees in Asia and located them in Epoch's Garage+ Incubation Center.
"Garage+ was a natural choice for Rethink Robotics' Taiwan-based staff because of its innovative atmosphere, entrepreneurial community and proximity to major Asian markets," said Scott Eckert, president and chief executive officer, Rethink Robotics.
Rethink Robotics has designed two robots for use in manufacturing environments. Baxter is the world's first two-armed collaborative robot, a humanoid robot designed for a wide range of manufacturing tasks and research applications. The company's latest innovation, Sawyer, expands on Baxter's collaborative features, and its smaller footprint and single arm design make it ideally suited for smaller workspaces. Sawyer is designed for machine tending, circuit board testing and other high-precision tasks, and will be available throughout Asia later this year.
"With a growing labor shortage, increasing wages and an aging society in Asia, we are launching Sawyer in this market to help manufacturers be successful amidst these challenges," said Eckert. "Sawyer was specifically designed for a broad range of applications that are simply not being addressed by other automation solutions. This smart, collaborative robot will be a game-changer for Asian manufacturing."
According to the Global Entrepreneurship and Development Institute (GEDI)'s 2015 report, Taiwan is ranked no. 1 in global entrepreneurship and development. Taiwan's focus on innovation helped shape Rethink Robotics' decision to locate its initial Asian presence in Taipei, as did Taiwan's robust and growing information and communications technology (ICT) sector.
"The ICT supply chain is so well-developed here that we believe startups and businesses expanding to Asia with a base in Taiwan will have a competitive edge when accelerating their operations, which in turn will stimulate the technology scene in Taiwan," said, Josephine Chao, vice president, Epoch Foundation. "Companies like Rethink Robotics that emphasize practical innovation, machine learning and advances in manufacturing automation will affect the future of our industrial society and help Taiwan to advance its position as a global technology leader."
About Epoch Foundation (www.epoch.org.tw)
Established in 1990 by 20 leading Taiwan-based international companies like TSMC, Acer Group, Quanta Computer and Delta Electronics, Epoch Foundation is the leading non-profit organization among Taiwan, Greater China and Asia Pacific region, bridging up-to-date technology and innovations between academics and industries to facilitate industrial development with the mission of promoting economic prosperity in the Asia Pacific region. Base on close alliance with world's top-notch academic institutions like MIT, UC Berkeley, Chatham House and Evian Group and strong networks with influential industries for over 24 years, Epoch serves as the liaison office to consolidate the resources in the private sectors. Epoch has been advocating progressive industrial development and policymaking by initiating dialogues on entrepreneurship, regional cooperation, and economic globalization.
Contact: Phoebe Tsai, Project Manager, Garage+ (goo.gl/lY7h7j), phoebe@epoch.org.tw
About Rethink Robotics
Rethink Robotics, Inc. helps manufacturers meet the challenges of an agile economy with an integrated workforce, combining trainable, safe and cost-effective robots with skilled labor. Its Baxter and Sawyer robots, driven by Intera, an advanced software platform, give world-class manufacturers and distributors in automotive, plastics, consumer goods, electronics and other industries a workforce multiplier that optimizes labor. With Rethink Robotics, manufacturers increase flexibility, lower costs and can invest in skilled labor - all advantages in fueling continuous innovation and sustainable competitive advantage.
Committed to accelerating robotics innovation in manufacturing and beyond, Rethink Robotics' Baxter Research Robot gives academic and corporate research environments a humanoid robot platform with integrated sensors and an open software development kit for creating custom applications.
Based in Boston, the company is funded by GE Ventures, Goldman Sachs, Bezos Expeditions, CRV, Highland Capital Partners, Sigma Partners, Draper Fisher Jurvetson, and Two Sigma Ventures. For more information about Rethink Robotics, please visit http://www.rethinkrobotics.com and follow on Twitter at @RethinkRobotics.
Featured Product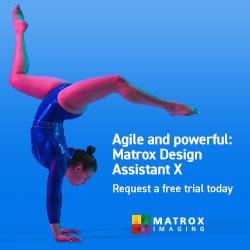 From traditional 2D and 3D computer-vision and deep-learning-based tools, Matrox® Imaging Library (MIL) X has your vision development needs covered. This SDK features algorithms and application tools field-proven in more than 60 key industries. MIL CoPilot-an interactive environment for training deep neural networks, prototyping, and code generation-shortens project ramp up time.