County Commissioners unanimously approve a $5.7 million agreement to integrate the first county-wide Unmanned Aircraft System in the world performing robotic 911 emergency response.
Macon, Georgia July 15, 2015

Olaeris, a manufacturer of next-generation, civilian Unmanned Aircraft Systems (UAS), announced today that Macon-Bibb, Georgia, will become the first in the United States to install a county-wide network of their AEVA unmanned aircraft system (UAS) to perform routine, robotic 911 emergency response. AEVA stands for Aerial-Electric-Virtual-Assistant.
Macon-Bibb county commissioners and Mayor Robert Reichert voted unanimously today to execute a Memorandum of Agreement with Olaeris for the $5.7 million fleet of UAS that will support all Sheriff's Department, Fire Department, 911, and Emergency Management Agency response services simultaneously, allowing them to share the technology and work more efficiently than ever before.
AEVA is a new type of unmanned aircraft called an RPA or Remotely Piloted Aircraft that is very different from UAVs or drones. She was engineered to undergo conventional FAA air worthiness type class certification like a commercial helicopter or jet so she's meant to fly safely in controlled airspace. Upon an incoming 911 call, AEVA automatically launches, flies beyond line of sight and robotically navigates to the incident without human assistance, usually arriving within 90 seconds or less. Then she transmits live, scramble encrypted video to ground responders so they can see whats happening while they are on the way. This helps ground responders understand whats happening so they can adjust their response in real-time to send the right amount of help where its needed most.
"Were very excited about partnering with Macon-Bibb and establishing a long-term relationship with the county. After meeting with State leaders from 23 states and over 100 cities to prioritize early integration sites, we found the leadership in Macon to be forward thinking, technology savvy and an ideal location to launch early AEVA operations", said Ted Lindsley, CEO of Olaeris.
The deal includes a fleet of flying saucer shaped unmanned aircraft that are 8-feet in diameter, which is larger than a king size bed. It also includes a 5-year services agreement covering everything from scramble encrypted bandwidth and data management, to training, certification, maintenance, repair, a 5-year unlimited warranty and a written guarantee that no further costs will be incurred.
"Macon-Bibb's Commission is focused on improving public safety by providing responders with the latest technology and growing our economy by attracting new industries and businesses," says Mayor Robert Reichert. "This partnership does both of those, while establishing Macon as a hub for regional disaster response."
Macon, Georgia represents the first of 3 strategic integration agreements Olaeris plans to unveil throughout the Summer of 2015 as the company completes a private debt offering on Fundable.com. Each of those 3 cities will become a strategic location where Olaeris will establish a presence to expand sales, marketing, service and support of its AEVA technology in key geographic regions of the Eastern United States.
Featured Product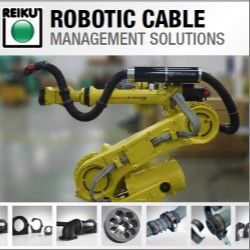 REIKU's Cable Saver™ Solution eliminates downtime, loss of revenue, expensive cable and hose replacement costs, maintenance labor costs. It's available in three sizes 36, 52 and 70 mm. All of the robots cables and hoses are protected when routed through the Cable Saver™ corrugated tubing.The Cable Saver™ uses a spring retraction system housed inside the Energy Tube™ to keep this service loop out of harms way in safe location at the rear of the Robot when not required. The Cable Saver™ is a COMPLETE solution for any make or model of robot. It installs quickly-on either side of the robot and has been tested to resist over 15 million repetitive cycles. REIKU is committed to providing the most modular, effective options for ensuring your robotic components operate without downtime due to cable management. www.CableSaver.com