ABBs simulation and offline programming software allows robot programming to be performed without disrupting production.
Charlotte, NC July 17, 2015

ABBs new RobotStudio app in the Okuma App Store incorporates the IRC5 robot controller software increasing profitability by allowing users to schedule robot tasks such as training, programming and optimization offline without causing any downtime in production. Okuma's App Store is the industrys first and only centralized, online marketplace for CNC machine tool apps and related content.
RobotStudio is built on the ABB Virtual Controller which is an exact copy of the software that runs robots in production. This allows simulations to be performed offline, using programs and configurations identical to those used on a shop floor, maximizing efficiency and part production.
Benefits of uninterrupted production include:
* Risk Reduction
* Quicker Start-Up
* Shorter Change-over
* Increased Productivity
RobotStudio Machine Tending PowerPac (MTPP) is an add-on and included with the app. This platform provides quick and easy creation and editing of robot machine tending.
MTPP defines and configures:
* parts and grippers
* stations and robot movements
* HomeRun strategy
* simulation, validation and optimal cycles
Okuma Apps put the power of improving part quality, reducing costs and increasing profitability in your hands. Okumas open architecture control and Windows are fully integrated allowing for true customization to suit particular machining needs. For more information on the ABB RobotStudio App and to download apps visit https://www.myokuma.com/. To see ABB RobotStudio tutorials and success stories visit https://www.youtube.com/user/RobotStudio.
Featured Product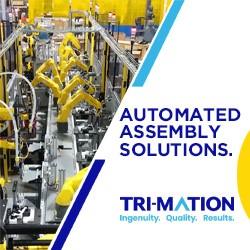 Tri-Mation Industries specializes in developing automated assembly machines that maximize the potential of your people and your technology. Share your manufacturing challenges and our in-house team of problem-solving experts and technological craftspeople can custom-engineer automated assembly machines that continuously improve your efficiency and profitability while increasing the quality and value of your products and processes.