The industrial robotics company in West Chester, KC Robotics, revolutionizes factory welding.
West Chester, OH- KC Robotics, Inc. released a new series of robotic welding cells called the Ready Weld. As an authorized partner and integrator for KUKA Robotics, KC Robotics is proud to announce the use of KUKA robots in all Ready Weld cells.

The Ready Weld series provides economic solutions. The cells use minimal floor space, and utilize minimal time and money. Ready Welds are based on a modular system of standard components which meet requirements of the general and automotive industries.
The standard weld system used is Miller Auto-Axcess, while Fronius is an option. A plethora of robot types are available - depending on the cell - including KR5 Arc and KR30 L16.
The Ready Weld series includes the 100, 200, 300, 400, and 500, all of which have the option of KUKAs advanced Laser Touch Sense software.
The Ready Weld 100 is a Turntable with 1 or 2 robots. The 200 is a Front Loading cell. The 300 is Side Load with dual headstocks and tailstocks. The 400 is an H Frame Positioner, and the 500 series are Ferris Wheels.
To learn more about the opportunities the Ready Weld can provide for your company, call KC Robotics at 1-800-7ROBOTS.
About KC Robotics: KC Robotics specializes in robotic automation services for machine loading, welding and material handling applications. KC Robotics also provides engineering services and support to existing robot installations as well as preventative maintenance and emergency robot service. KC Robotics is an authorized integrator for KUKA, Motoman and Kawasaki robots, and is located in West Chester, Ohio. More information can be found at www.kcrobotics.com
Featured Product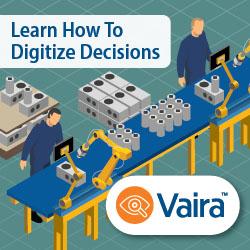 A unique distillery uses Pleora's Visual Inspection System to maintain brand quality standards and reduce errors that increase operating costs and slow production. To help ensure brand consistency, the distillery uses Pleora's AI-based Visual Inspection System to add decision-support for manual labelling processes. The camera-based system integrates pre-packaged AI plug-ins that are easily trained on a customer's unique requirements to visually highlight product differences and deviations for operators and inspectors on a display. The distillery trained the Image Compare plug-in to identify key brand elements on the bottle, with a real-time on-screen image overlay then guiding operators as they manually place the emblem. In addition, the system can be used as a training tool to teach new employees on brand quality standards.