AISs Box Industrial PCs, Din-rail and Thin Client IPCs Offer a Highly Integrated Form Factor for PC-based Automation for IoT Gateway and Industry 4.0 Applications
IRVINE, CALIFORNIA - July 27, 2015 - American Industrial Systems, Inc. (AIS) the leader of open architecture, Industrial PCs (IPCs), industrial panel computers, IP-based HMI panels, browser-based touch screen interfaces, has expanded their family of Intelligent PC-based automation solutions with a new offering of Smart industrial interfaces. This new portfolio of automation and control solutions from AIS include Industrial Box PCs, Din Rail and Thin Client IPCs. The new industrial interfaces deliver on AISs promise to provide flexible, scalable and expandable automation solutions in a variety of footprints, formats, form factors, and mounting options.

Industrial PC (IPC), Embedded Computer and IoT Gateway AISs new IoT Gateways, Industrial PCs (IPCs) and Embedded Computers are used for data acquisition and process control. They are also high-performing computing solutions which offer flexible input/output (I/O) interfaces and display size options. Now AISs breadth of Industrial PC (IPC) offering is wider than ever, and includes Panel Industrial PC, Box Industrial PC, Din-rail Industrial PC, Thin Client Industrial PC, Embedded Box IPC, Embedded Panel IPC, Embedded Din Rail IPC, and Embedded Thin Client IPC with I/O, and are used for various applications in the Industrial Automation, Building, Medical, Military, Industrial, and Traffic and Transportation sectors.
AIS Capitalizes on Key Factors for Driving Faster and More Reliable Networking Solutions with their Newest Family of Industrial Computers
When combined with advanced process control and SCADA software, AISs Industrial Computers function as automation control and monitoring supervisory systems with the ability to connect external machine, plants and facilities, while collecting, processing and routing data. With increased computational, processing and storage capabilities and integration of several tasks, AISs open architecture, PC-based automation solutions are capable of collecting and analyzing terabytes of raw data. This provides customers improved process efficiency, quality, lower maintenance costs and higher levels of productivity.
AISs IPCs and IoT Gateways Facilitate Big Data Analytics to Enable Industrial Organizations to Improve Performance, Agility and Reduce Costs
The trend toward Industrial Internet of Things (IIoT), M2M and Industry 4.0 technologies is increasing the demand for more advanced industrial computers and communication technology solutions. As manufacturing and industrial areas are becoming more automated, machine builders and end-users need to deploy intelligent devices such as AISs IPCs and IoT Gateways to monitor and control unmanned facilities or remote plant operations.
The new AIS family of Industrial PCs, Rugged and Compact Thin Clients offer:
* Industrial Box PCs: Available in Premium, Standard and Compact versions, they are rugged and scalable for user customization and flexible mounting options.
* Industrial Din Rail PCs: Offer more flexible, open platform, PC-based automation control over proprietary PLCs with a Din Rail mounting design for easy installation inside control cabinets
* "ThinManager Ready", Industrial Thin Clients: Provides network security with the ability to deploy less expensive hardware
* Rugged Thin and Compact Thin Clients: ACP ThinManager, ThinManager Ready Thin Clients with ACP-Enabled Bios.
More Performance with a Greater Selection of Options, Make AISs Portfolio One of the Most Complete PC-Based Automation Solutions Available
AISs Industrial IPCs and Thin Clients enable customers to implement tasks of increasing complexity at less risk and with less financial outlay. Their hardware and software are both innovative and guaranteed to remain available over the long term. Hardware, software options and ready-to-use bundles are available with Wonderwares InTouch Premium, Standard and Compact PCs and/or ACP ThinManager Solutions which include: Rugged Thin Client PCs, Compact Thin Client PCs, Rugged Thin Client Panels and Compact Thin Client Panels.
AISs Industrial PCs and Industrial Computers Are Ruggedized, with Safety and Environmental Protection and Certifications for Harsh Industrial Environments
AISs Rugged Thin Client PCs and Thin Client Panels carry ATEX Zone 2 and IECEx Zone 2 certification for harsh locations; and their Premium, Standard and Compact Box PCs and Compact Thin Client PCs and Panels carry UL 62368-1, UL 61010-1 and CB Scheme. These benefit machine and plant builders, system integrators and end customers alike. These certifications provide them greater safety and environmental protection, combined with flexible options and compact designs, delivering greater performance, productivity, functionality and reduced total cost of ownership (TCO).
About AIS
Headquartered in Irvine, California, USA, American Industrial Systems, Inc. (AIS) offers in-house electronic and mechanical design, software development, manufacturing, production and quality control services. Offering one of the widest ranges of industrial computing solutions, AIS solutions are available in a multitude of configurations for industrial, oil & gas, military and marine applications. The company is fully committed to empowering, improving and delivering turnkey HMI, monitoring and display solutions for OEM, ODM and end-user customers. AIS is an ISO 9001:2008 certified supplier and manufacturer of rugged computers and displays, and received completion of the International Traffic in Arms Regulations (ITAR) registration from the Directorate of Defense Trade Controls (DDTC). For more information, visit: www.aispro.com, email: sales@aispro.com or contact: 1-888-485-6688.
Featured Product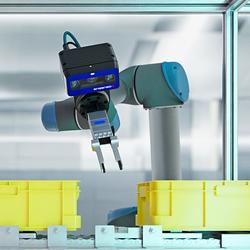 IDS NXT: a platform for a new generation of vision systems for industrial applications. It lays the groundwork to provide easy-to-use yet flexible complete systems that can be used to implement all steps of a vision solution. With IDS NXT ocean, a complete solution especially for AI-based image processing is now available. It allows to solve tasks where classic, rule-based image processing has reached its limits - without any programming effort.