World-renowned roboticists will convene at GMIC Silicon Valley on September 28-30 to present their most innovative robots and deliver brilliant insights on the ways that artificial intelligence will impact the future.
MOUNTAIN VIEW, Calif., July 29, 2015 -- On the heels of warnings from artificial intelligence experts and technologists, including Elon Musk and Stephen Hawking, on the potential dangers of robotics, GMIC's Robotics Summit will examine the role that robots play in the future of technology. Robots and artificial intelligence are poised to provide the next great leaps in technology and drive the future development of national defense, workforce, and economic activity.

GMIC's Robotics Summit will showcase the most recent advancements in robotics with presentations from technology experts on how artificial intelligence will be integrated into our daily lives to improve everything from healthcare and prosthetics to global issues of national safety and economic opportunity.
Featured events include a robot dancing session and demonstrations of the advancements in robot movement and communications methods. Summit attendees will hear from university researchers, patent-holders, and entrepreneurs who have worked with leading governments, defense, and security companies.
Robotics Summit speakers include:
* Keith Gunura - CEO & Co-founder, AG Noonee
* Homayoon Kazerooni - CEO, US. Bionics & Director of the Berkeley Robotics Human Engineering Lab
* Cory D. Kidd - CEO & Co-founder, Catalia Health
* Tim Tuttle - CEO & Founder, Expect Labs
* Anis Uzzaman - CEO & General Partner, Fenox VC
* Hu Yu - SVP & Dean of Research Institute, iFLYTEK
* Zhichen Yu - CEO, Tuling Robotics
Early bird registration for VIP, Main, and Expo Plus passes ends August 11. Passes include access to the opening party, all summits, expo tracks, and the exhibition floor. Media registration is open for all press and industry analysts (register here). To register and learn more about GMIC Silicon Valley, visit sv.thegmic.com.
About GMIC
Global Mobile Internet Conference (GMIC) is an international conference that explores the global impact of mobile technology. Taking place in Beijing, New York, Tokyo, Jakarta, Bangalore, Sao Paulo, Taipei, and Silicon Valley, these conferences provide an opportunity for industry leaders to build relationships, share insights, and develop international growth strategy.
Featured Product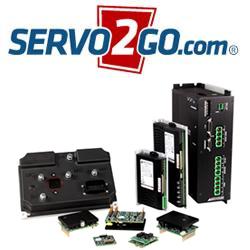 Engineered to drive brushless and brush servomotors in torque, velocity or position mode, Servo2Go.com offers a broad selection of servo drives in a wide range of input voltages and output power levels.