The leading Phantom 3 kit retailer adds a professional-level Phantom 3 bundle to their line-up of exclusive drone kits.
BREA, Calif. July 30, 2015

Drone World is giving the DJI Phantom 3 an upgrade with its latest Phantom 3 bundle kit.
Released just two weeks ago, the latest Phantom 3 bundle in the online retailers exclusive line has already become its best seller. In stock now and dubbed the Phantom 3 Pro Bundle Upgrade Kit, Drone Worlds newest creation is the most complete and fastest shipping Phantom 3 bundle to date.
After piloting these drones for so many years now, we figured its about time to give people the best accessories bundled up all together in a totally killer kit at a phenomenal price," says Steven McKenna, Drone World President and Founder. "We also have an exclusive video on our site showcasing this new pro upgrade kit."
SEE THE VIDEO HERE: https://goo.gl/nsF2a3
Available in two choices of carrying case for the Phantom 3 Professional, the DJI Phantom 3 bundle upgrade features either a Nanuk black hard case or military Rush backpack made by 5.11 Tactical. Each being a stylish form of drone transportation, the hard case and military backpack also feature Drone Worlds exclusive custom designed foam to protect the purchasers investment and ample storage for additional items. Additional professional-level upgrades to the kit include three DJI smart batteries for the Phantom 3, Drone Worlds commercial grade version 2.0 triple battery charger with LED voltage read-out, lens filter pack with polarizer and 2 & 3 stop ND filters, Drone World lanyard, prop guards and a pair of carbon fiber propellers for better flight efficiency, thrust and top speeds. Drone World tops off each Phantom 3 bundle upgrade with a 64gb memory card and 3.0 USB reader for up to 160 4k quality video recordings and easy uploads to any desktop or laptop computer.
"Drone Worlds customers demand high quality accessories with the convenience of an all-in-one Phantom 3 bundle kit that comes with everything they need. The new Pro Upgrade Kit fits this need perfectly and is without a doubt the best Phantom 3 Bundle in the industry," says Drone World Vice President Chris Brunasso.
Also new to Drone-World.com is the industry's best Accidental Damage Insurance for Drone Worlds Phantom 3s. Customers have the ability to easily add on this bit of security for their investment. The insurance covers a full year of flying with the Phantom 3 and is backed by Drone Worlds in-house drone specialists.
About Drone-World.com: Drone World is the the webs preferred destination for consumer and professional unmanned aerial drones, kits and accessories. Combining superior customer service and know-how with years of experience, Drone-world.com features the most trusted brands in the industry including GoPro, DJI, 3DR, Futuba and Zenmuse. They specialize in custom DJI & Phantom bundle kits including the recently released DJI Phantom 3.
Featured Product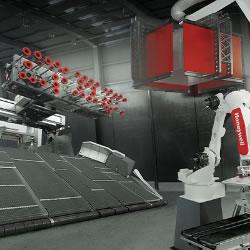 Honeywell Intelligrated is recognized by the Robotic Industries Association (RIA) as a Certified Robot Integrator, with more than a quarter-century of experience providing single-source robotic solutions for high-performance distribution and manufacturing operations. From system concepting, simulation, fabrication and integration to installation and commissioning, training and ongoing support, each solution is approached with a comprehensive lifecycle view to maximize the value of your system.