Using "Pattern Matching" Integrated Into Robot To Identify Parts Instead Of Features, Nachi's NV-PRO EX 3d Surface Pattern Matching Vision System Combines The Most Effective Attributes Of Several Traditional Sensing Solutions To Create An Innovative Technology With Advanced Application Capabilities.
Nachi Robotic Systems Inc. has introduced a game-changing robotic vision system capable of accurately identifying randomly oriented components with complex shapes and surface contours. The Nachi NV-Pro EX 3D surface pattern matching vision system combines the most effective attributes of several traditional sensing solutions to create an innovative technology with advanced application capabilities.

The NV-Pro EX vision system uses dot cloud projection technology and stereo-vision cameras to measure and match component surface contours to 3D CAD data or known reference library images. Using dot cloud technology, components without easily identifiable features such as holes or distinct edges can be topographically mapped and measured using only surface contour features. The acquired surface contour feature data is processed by NV-Pro EX dot pattern projection analysis software and is used to identify both location and angular orientation of randomly placed components. Once images are acquired and processed, the Nachi NV-Pro EX vision system automatically generates highly accurate offset data for use within the robot program. Multiple components can be identified and measured during each image processing sequence, storing offset data in queue for subsequent use and reduction of process cycle time. Nachi Robots connect seamlessly to NV-Pro EX vision systems and allow the use of user selected camera brands for simplification of setup and reduction of application costs. To further simplify application setup and use, images and vision data can be directly viewed using the robots full color touch screen teach pendant or exported to a large viewing monitor.
To request information or demonstration on the Nachi NV-Pro EX 3D surface pattern matching vision system, please contact Nachi at 248-305-6545 or email marketing@nachirobotics.com
PRESS CONTACT:
Kerry Ferrazza
Marketing Specialist
kferrazza@nachirobotics.com
248-305-6545
Featured Product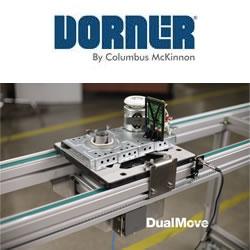 Dorner's 2200 Series Precision Move Pallet Systems are ideal for assembly automation. With features such as an innovative timing belt conveyor design and industry best pallet transfers, they get your product to the exact location, at the exact time and in the exact position it needs to be. They are now available with new options such as heavy load corner modules with 150 lb. capacity and 180 degree tight transfer corners for compact loops.