Program seeks innovative solutions and technologies to be jointly commercialized
TOKYO--SoftBank Corp. ("SoftBank"), a subsidiary of SoftBank Group Corp. (TOKYO: 9984), today announced that it launched the 'SoftBank Innovation Program, a program that seeks a wide range of innovative solutions and technologies from outside the company for joint consideration and commercialization.

The SoftBank Innovation Programs aim is to create new value by taking reviewed and selected third-party innovative solutions and technologies and combining them with SoftBanks own resources. For applicants that make the shortlist, SoftBank will provide funding for prototype development, environments for test marketing and other forms of assistance. Applicants that make it to the final stage will be able to deploy their offerings on SoftBanks sales channels in Japan, and potentially into global markets through other companies in the SoftBank Group such as Brightstar Corp. and Sprint Corporation.
The first round of the SoftBank Innovation Program is open to four categories—Smart Homes*1, Connected Vehicles*2, Digital Marketing and Healthcare—and applications will be accepted at the SoftBank Innovation Program official website. An explanation session will be held in Tokyo on August 19 for applicants or those planning to apply.
*1 Residences with home appliances and equipment that are connected to the Internet.
*2 Vehicles that are always connected to the Internet.
Outline of First Round of SoftBank Innovation Program
1. Entry period:
July 31 to September 30, 2015 (JST)
2. Four categories:
Smart Homes, Connected Vehicles, Digital Marketing, Healthcare
3. Eligibility:
Program submissions will be accepted from organizations of all sizes, from venture businesses to large companies. (Applications will be accepted from any country, but applicants must be able to interview in Tokyo or Silicon Valley).
More Information on SoftBank Innovation Program / Where to apply
URL: http://www.softbank.jp/en/biz/innovation/ (SoftBank Innovation Program official website)
About SoftBank Corp.
SoftBank Corp., a subsidiary of SoftBank Group Corp. (TOKYO: 9984), provides mobile communication, fixed-line communication and Internet connection services to customers in Japan. Leveraging synergies with other companies in the SoftBank Group, SoftBank Corp. aims to transform lifestyles through ICT and expand into other business areas including IoT, robotics and energy.
About Brightstar
Brightstar, a subsidiary of SoftBank Group Corp., is the worlds largest specialized wireless distributor and a leading provider of diversified services focused on enhancing the performance and results of the key participants in the wireless device value chain: manufacturers, operators and retailers. In 2014, Brightstar reported global net revenues of more than $10 billion and employs about 9,000 people on six continents.
Brightstar is partnering with Kii, a leading mobile and IoT back-end platform provider, to better connect the IoT market by creating a new global ecosystem called "Space: The Infinity of Things" to support the development and distribution of IoT products into retail and mobile operator channels.
For more information, please visit Brightstar.com.
About Sprint
Sprint (NYSE: S) is a communications services company that creates more and better ways to connect its customers to the things they care about most. Sprint served more than 57 million connections as of March 31, 2015 and is widely recognized for developing, engineering and deploying innovative technologies, including the first wireless 4G service from a national carrier in the United States; leading no-contract brands including Virgin Mobile USA, Boost Mobile, and Assurance Wireless; instant national and international push-to-talk capabilities; and a global Tier 1 Internet backbone. Sprint has been named to the Dow Jones Sustainability Index (DJSI) North America for the past four years. You can learn more and visit Sprint at www.sprint.com or www.facebook.com/sprint and www.twitter.com/sprint.
Featured Product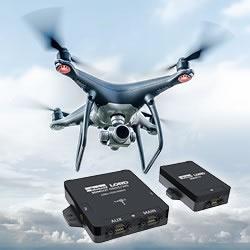 The new complete inertial navigation solution comes with GNSS/INS 3DMGQ7 sensor, 3DMRTK correction modem and real time SensorCloud RTK correction network. The sensor comes with Dual antenna GNSS, tactical grade IMU with centimeter-level accuracy with RTK. Low profile and light weight at 78 grams, this sensor is The sensor is optimized for size and weight in Unmanned Ground Vehicles, mobile robots and autonomous vehicles. The network interface 3DMRTK modem is seamlessly integrated into the 3DMGQ7 sensor supports industry-standard NMEA and RTCM 3.1 protocols. The network RTK support comes with cellular data plan. The SensorCloud RTK is a cloud-based RTK correction system with private encrypted data stream. Check out our G Series and C Series OEM products.