American Society of Mechanical Engineers Selects Joo H. Kim for the 2015 Freudenstein / General Motors Young Investigator Award
BROOKLYN, N.Y., Aug. 4, 2015 -- Joo H. Kim, an assistant professor of mechanical engineering at the NYU Polytechnic School of Engineering, will receive the 2015 Freudenstein / General Motors Young Investigator Award for advancing the study of energy expenditure in robotic systems—an area with great practical application in manufacturing, national defense, and industry. Working with student researchers, Kim developed a system to measure and analyze with unprecedented accuracy the energy expenditure of robots, which may someday allow them to mimic the naturally efficient gait of humans.

The prize will be bestowed by the Design Engineering Division of American Society of Mechanical Engineers (ASME) at its annual Mechanisms and Robotics Conference, the largest gathering in the ASME International Design Engineering Technical Conferences (IDETC), taking place August 2-5, 2015 in Boston.
Kim will be recognized for the paper "Degree-of-Freedom-Based Instantaneous Energetic Cost of Robotic Biped Gait with Benchmarking Implications," which he co-authored with his former students Joseph Quacinella and Dustyn Roberts.
The paper outlines how they developed an instrumentation system and program that allows for measuring, processing, and analyzing energy expenditure in robotic systems with an unprecedented level of accuracy. Deployed on a bipedal robot, the instrumentation program allowed instantaneous, real-time analysis at each joint actuator (rather than on the robotic system as a whole) and also provided important benchmarks for quantitative comparisons with human gait energetics.
Because walking is a common activity, most people automatically choose a gait that minimizes energy expenditure; thus, benchmarking human gait is a natural approach for those wishing to design more energy-efficient and cost-effective robotic systems.
The Freudenstein / General Motors Young Investigator Award was established in 1996 to encourage young investigators undertaking high quality research. It honors the authors of a paper with significant original contribution to the theory of mechanisms and the potential to enhance the public good. The selection process is overseen by ASME's Design Engineering Division's Mechanisms and Robotics Committee.
Kim's many other honors include a 2007 Prometheus Award for Top Government Technology of the Year and a 2014 AMS Best Paper Award from ASME's Computers and Information in Engineering Division.
Dean of NYU Engineering Katepalli R. Sreenivasan, said, "I am pleased that Professor Kim's research has been acknowledged by his peers in a respected organization like ASME. NYU School of Engineering researchers are dedicated to fundamental research as well as to research with practical, real-word applications, and Dr. Kim's energy-expenditure studies are important in both categories, advancing robotic systems across all sectors."
The NYU Polytechnic School of Engineering dates to 1854, when the NYU School of Civil Engineering and Architecture as well as the Brooklyn Collegiate and Polytechnic Institute (widely known as Brooklyn Poly) were founded. Their successor institutions merged in January 2014 to create a comprehensive school of education and research in engineering and applied sciences, rooted in a tradition of invention, innovation and entrepreneurship. In addition to programs at its main campus in downtown Brooklyn, it is closely connected to engineering programs in NYU Abu Dhabi and NYU Shanghai, and it operates business incubators in downtown Manhattan and Brooklyn. For more information, visit http://engineering.nyu.edu.
Featured Product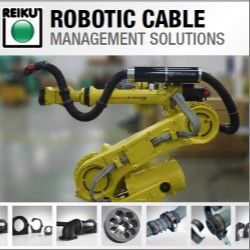 REIKU's Cable Saver™ Solution eliminates downtime, loss of revenue, expensive cable and hose replacement costs, maintenance labor costs. It's available in three sizes 36, 52 and 70 mm. All of the robots cables and hoses are protected when routed through the Cable Saver™ corrugated tubing.The Cable Saver™ uses a spring retraction system housed inside the Energy Tube™ to keep this service loop out of harms way in safe location at the rear of the Robot when not required. The Cable Saver™ is a COMPLETE solution for any make or model of robot. It installs quickly-on either side of the robot and has been tested to resist over 15 million repetitive cycles. REIKU is committed to providing the most modular, effective options for ensuring your robotic components operate without downtime due to cable management. www.CableSaver.com