Engineering design services and material deliveries will be performed from now into calendar year 2016.
CHANDLER, Ariz., Aug. 10, 2015 - Black Diamond Advanced Technology has been selected by Carnegie Robotics, LLC to develop an Operator Control Unit (OCU) for ground robotic command and control applications.

Leveraging existing technology from its ultra-rugged, combat-proven Modular Tactical System product family, Black Diamond Advanced Technology will design, develop and prototype a chest-mounted / handheld controller according to Carnegie Robotics specifications for next-generation autonomous mine detection and similar unmanned ground vehicle (UGV) applications.
"The OCU will allow Carnegie Robotics end-customers' the ability to safely and accurately manage their UGVs with an intuitive human-machine interface (HMI) device that takes advantage of BDATech's legacy of cutting-edge human factors experience as a leading defense electronics OEM," says Norman Lange, director of product development at Black Diamond Advanced Technology. Engineering design services and material deliveries will be performed from now into calendar year 2016.
About Black Diamond Advanced Technology, LLC
BDATech is the leader in wearable, tactical technology for Situational Awareness, Small Unmanned Aerial System (SUAS) Ground Control Stations, Digitally Aided Close Air Support (DACAS), and Explosive Ordnance Disposal (EOD) applications with programs of record in the US Air Force, US Marine Corp, the Air National Guard, Australian Army, and the Danish Army. BDATech solutions include communications & computing integration, peripheral power management, precision targeting software, and tactical and airborne systems. BDATech is a trusted partner for mission success, adding value through interoperability.
For more information on our combat proven product lines, please visit http://www.bdatech.com
Featured Product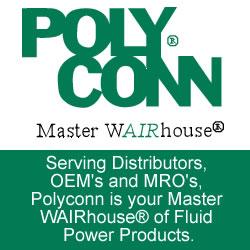 We can produce pneumatic hose and other pneumatic products to match your exact specifications. Our proficient engineering and quality management, coupled with outstanding customer service means Polyconn delivers high quality pneumatic components at competitive prices. Place your order or contact Polyconn for more information on our pneumatic hoses, pneumatic manifolds, Duratec® Pipe or any of our other top quality pneumatic products and components.