Double E Companys new "Solis" web material accumulators deliver stored web material when part of a production process must come to a stop while the rest of the line continues to run. They stand apart from other accumulators by offering closed loop tension control throughout the cycle and by allowing programmable storage amounts that can be changed on the fly.
West Bridgewater, MA August 12, 2015

Double E Companys "Solis" accumulators deliver stored web material when part of a production process must come to a stop while the rest of the line continues to run. Unlike other accumulators, Solis offers programmable material storage amounts, and closed-loop tension control to ensure consistent moving web tension during a manual splice. This ability not only increases efficiency by keeping the line running, but also contributes to end product quality in processes that require constant web movement, like coating or laminating. Nonwovens applications are particularly well-suited to benefit from an accumulator because web speeds are often relatively slow. Solis accumulators offer advanced technology and user-friendly features to execute storage and delivery easily, with perfect web tension.
One of the most important characteristics of the Solis is its ability to maintain proper and consistent web tension at all times. The Solis accumulator operates as its own tension zone by means of a servo driven infeed roller and an outfeed pneumatic dancer roller. This unique system gives operators the necessary control to set and change material amounts on the fly without ever affecting web tension. A clear, intuitive touch-screen controller makes that operation, and many others, simple and fast. The cycle can be started locally or remotely, and alarms can be set easily to alert operators when stored material reaches user-defined levels.
Other features help to save money, further improve product quality, and ensure safety. Sleep mode, for example, puts the machine to rest between cycles to reduce energy consumption. Design parameters allow easy integration of web guiding or inspection lamps to further assist in end product quality. Interlocked guards and strategically placed emergency stops ensure operator safety.
Double Es Solis accumulators are available in three sizes. The "Solis 50" stores up to 50 feet of material up to 30 inches in width, with tension up to 3 PLI. Likewise, the "Solis 100" stores up to 100 feet of material up to 60 inches in width, with tension up to 2 PLI. Finally, the "Solis 200" stores up to 200 feet of material up to 90 inches in width, with tension up to 1.5 PLI. These accumulators can be integrated in existing production lines, and can be complemented by Double E unwind stands, rewind stands, and other web accessories including core shafts and rollers.
Featured Product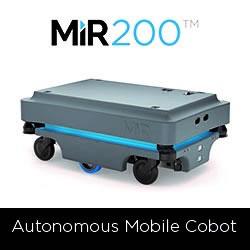 MiR200 is a safe, cost-effective mobile robot that automates your internal transportation. The robot optimizes workflows, freeing staff resources so you can increase productivity and reduce costs. MiR200 safely maneuvers around people and obstacles, through doorways and in and out of lifts. You can download CAD files of the building directly to the robot, or program it with the simple, web-based interface that requires no prior programming experience. With its fast implementation, the robots offers a fast ROI, with payback in as little as a year.