Strategic partner of Diversified Machine Systems, Fagor Automation, announces new features and technology developments to the Fagor 8065 CNC control system.
Colorado Springs, CO August 18, 2015

Fagor Automation, an international strategic partner of Diversified Machine Systems (DMS), an Original Equipment Manufacturer (OEM) of DMS CNC Routers and Large Format Machining Centers, announces advanced developments and new features to their CNC control systems.
Fagor Automation has developed and implemented an innovative, cost-effective feature called the Program-Section Editor for the Fagor 8065 CNC series. The Profile-Section Editor is a programming method for a 3D surface defined by a plane profile and one or several sectional profiles which allows programming solid of 3D surfaces without the need for external CAD/CAM applications, using ISO language, to define plane profiles as well as machining conditions.
The Profile-Section Editor may be used to machine grooves, holes, bosses in taper sections or of other types without the need for complicated trigonometric calculations. Since the programming can be achieved within a matter of minutes at the CNC keyboard instead of having to access an external CAD/CAM system, programming time is significantly reduced and part finish is improved.
The need for manual part finishing may be eliminated with reducing or increasing the pass depth. This will allow the operator to choose the machining strategy, making it a possibility to reduce load on the tool, which then increases the tool life and reduces the breakage of the tool and limits part damage. The possibility of spiral machining or ramp penetration in any programmed profile will eliminate drilling time and will result in optimal surface finish by continuous machining without leaving the part.
It is very important for the finishing pass to have the right machining strategy, especially when machining surfaces defined by a flat profile. In order to achieve maximum precision and productivity, it is recommended that the roughing and finishing operations are completed with a specific cutting tool for each operation. The tool table on the Fagor CNC control system has simple and intuitive graphics to set the geometric parameters and user life of the tools. The operator chooses the shape and size of the tool based on the size of the part and the operation they are carrying out, as well as the value of the finishing stock and the cutting depth in roughing, semi-finishing and finishing operations.
With these new features and technology upgrades to the Fagor 8065 control series, customers experience better results with reduced programming time as well as improved part finish.
Fagor Automation is a worldwide Manufacturer of CNC Systems, Servo Motors & Drives, Feedback Systems, DRO Systems & Motion Control Systems and strategic partner with Diversified Machine Systems.
Learn more about Diversified Machine Systems at http://www.DMSCNCRouters.com.
ABOUT DIVERSIFIED MACHINE SYSTEMS
Diversified Machine Systems (DMS) is a leading designer and manufacturer of 3 Axis CNC Routers, 5 Axis CNC Machine Centers, and Large Format Machine Centers headquartered in Colorado Springs, CO. With more than 30 years of innovation and industry experience as an Original Equipment Manufacturer (OEM), DMS line of CNC routers and machining centers are routinely used on materials such as wood, composites, aluminum, plastics and foams. Renowned for quality and precision, DMS advanced machining centers are engineered to increase efficiency and productivity, while maintaining the quality and precision leading manufacturers have come to expect.
Featured Product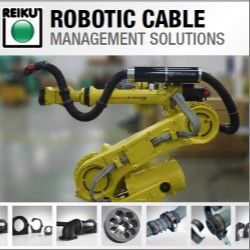 REIKU's Cable Saver™ Solution eliminates downtime, loss of revenue, expensive cable and hose replacement costs, maintenance labor costs. It's available in three sizes 36, 52 and 70 mm. All of the robots cables and hoses are protected when routed through the Cable Saver™ corrugated tubing.The Cable Saver™ uses a spring retraction system housed inside the Energy Tube™ to keep this service loop out of harms way in safe location at the rear of the Robot when not required. The Cable Saver™ is a COMPLETE solution for any make or model of robot. It installs quickly-on either side of the robot and has been tested to resist over 15 million repetitive cycles. REIKU is committed to providing the most modular, effective options for ensuring your robotic components operate without downtime due to cable management. www.CableSaver.com