New programs offered to schools ranging from K-12 to postgraduate levels are aimed to educate and empower students to develop applications for drone technology
BERKELEY, CA, September 1, 2015 - 3DR, North Americas largest consumer drone manufacturer, today announces an academic program, "3DU," to support Unmanned Aerial Vehicle (UAV) programs at schools across the country. The 3DU program offers hardware discounts and sponsorships for students in order to prepare the next generation for the emerging UAV industry.

"In the past, drone research and education was limited to aerospace or engineering departments," says Chris Anderson, CEO of 3D Robotics. "Were excited to bring this opportunity to students nationwide to empower the next-generation by making the tools they need more attainable and affordable."
3DU is accessible to students, clubs, courses and schools at the K-12, university, graduate and postgraduate levels with programs. To enable these new initiatives, the 3DU program will also offer academic discounts on ready-to-fly vehicles, including their flagship product, Solo, the worlds first smart drone.
"Were seeing massive adoption of our drone platforms in education," says Anderson. "The diversity and creativity of these programs is astonishing, from archaeology to cinematography to precision farming."
In addition to classroom and curriculum support, 3DR also sponsors select schools, programs and clubs. 3DR currently sponsors Stanford University and the University of California, Berkeley.
"The task of designing and assembling a functional system in a three-month period is challenging," said Tom Clark, Development Engineer at the University of California, Berkeley. "With 3DRs donation of a set of drones, as well as continued support from their engineers, our students can spend less time learning about drone technology currently on the market, and instead focus on developing their own applications and hardware to build on previous drone technology."
Discounts include:
15% off of 3DRs Solo Drone
15% off of 3DRs Solo Gimbal
20% off of 3DRs hardware products and Solo accessories
In conjunction with these efforts, 3DR also created an open app development platform called DroneKit which allows students to learn about, experiment with and create drone apps.
Additionally, the 3DU program is partnering with a number of companies to provide educational discounts on additional products, such as Panoptes, which makes a quadcopter eBumper sonar system.
To highlight the revolution occurring in the academic drone space, the 3DU program will publish a regular academic newsletter.
You can learn more about the 3DU program and sign up for the newsletter by visiting 3drobotics.com/3DU
Featured Product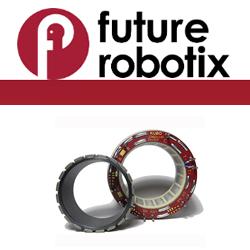 Less expensive direct replacements for RoboDrive motor kits with higher torque density, hollow shaft, low power-to-weight ratio, highest dynamics, exact linearity, low cogging torque. Available in sizes 38mm - 170mm. Available today at futurerobotix.com