IEEE P3030 intended as the first draft standard to define an architectural framework for consumer 3D printing based upon interoperability and portability of 3D printing solutions
PISCATAWAY, N.J.--IEEE, the world's largest professional organization dedicated to advancing technology for humanity, announced today that the IEEE Standards Association (IEEE-SA) has approved development of IEEE P3030 Draft Standard for Consumer 3D Printing.

IEEE P3030 is being crafted to define an architectural framework for consumer 3D printing, including descriptions of various domains, definitions of domain abstractions and identification of commonalities between different domains. Because consumer 3D printing involves unique standards requirements, IEEE P3030 is planned to provide a needed blueprint for data abstraction, quality, protection and safety. The architectural framework for consumer 3D printing is intended to be a reference model that defines relationships among various domains and common architecture elements, and that addresses all contingencies related to the industry, regulatory bodies and consumers.
"Consumer 3D printing technology is emerging rapidly and there is a need to incentivize industry adoption of standards specific to the marketplace, and to be cognizant of unique challenges where 3D printed items from a wide range of future equipment will need to produce identical results in order to achieve broader market acceptance," said Yu Yuan, chair, IEEE Consumer 3D Printing Working Group. "IEEE P3030 is focused on standards development to establish quality metrics and accuracy grades so that printed materials at the consumer level can be assembled faultlessly, while also addressing issues related to privacy, security and control measures."
IEEE will host several workshops on consumer 3D printing to collect input and solicit participation for IEEE P3030. The first workshop will be held during the 2015 IEEE Global High Tech Congress on Electronics (GHTCE) in conjunction with the 17th China Hi-Tech Fair on 16-21 November 2015 in Shenzhen, the largest electronics industry base in China.
To learn more about IEEE P3030, please visit http://standards.ieee.org/develop/project/3030.html.
To learn more about IEEE-SA, visit us on Facebook at http://www.facebook.com/ieeesa, follow us on Twitter at http://www.twitter.com/ieeesa, connect with us on LinkedIn at http://www.linkedin.com/groups?gid=1791118, or on the Standards Insight Blog at http://www.standardsinsight.com.
About the IEEE Standards Association
The IEEE Standards Association, a globally recognized standards-setting body within IEEE, develops consensus standards through an open process that engages industry and brings together a broad stakeholder community. IEEE standards set specifications and best practices based on current scientific and technological knowledge. The IEEE-SA has a portfolio of over 1,100 active standards and more than 500 standards under development. For more information visit http://standards.ieee.org.
About IEEE
IEEE, a large, global technical professional organization, is dedicated to advancing technology for the benefit of humanity. Through its highly cited publications, conferences, technology standards, and professional and educational activities, IEEE is the trusted voice on a wide variety of areas ranging from aerospace systems, computers and telecommunications to biomedical engineering, electric power and consumer electronics. Learn more at http://www.ieee.org.
Featured Product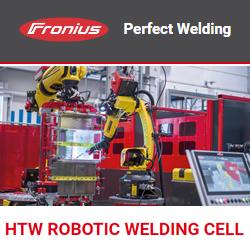 Modular, collaborative, and flexible: the "Handling-to-Welding" robotic welding cell joins parts of different geometries and materials. The task is carried out by two robots - the handling robot positions the workpieces, the second robot performs the welding. Depending on the cell configuration, lock gates are available for the inward and outward transport of parts. Furthermore, various positioners, a TCP measurement system, a torch cleaning system, a gripper station, and a contact tip change system are also possible.