At IBA (12-17 September, Munich, Germany, Hall B1 Booth 410) for the first time, ILAPAK, the leading manufacturer of packaging machines for flexible film applications, will be showing its new suite of counting solutions, including the cutting-edge Vision 1000 vision counting system.
Lugano, Switzerland September 02, 2015

The centrepiece of ILAPAK's booth (Hall B1 Stand 410) will be a complete bagging line for bread rolls, comprising the Vegatronic 1000/600 Open Frame (OF) vertical form-fill-seal (VFFS) machine and the state-of-the-art Vision 1000 vision counter with advanced line scan camera technology.
The Vision 1000 counts and feeds baked goods into boxes or the infeed of a VFFS machine at high speed with over 99% accuracy.
The Vision 1000 offers complete flexibility in terms of product type, shape and size. It can accommodate fresh, par-baked, frozen and difficult-to-handle raw dough products, whether baguettes, pretzel sticks, rolls, bagels, donuts or croissants.
Key to the flexibility of the belt-based system is a powerful line scan camera, which can capture up to 2,000 images per second. The images are overlaid to produce a 'real time' picture of the product flow, and intelligent software processes this image to calculate when the target number per pack has been reached. Batches are separated via pneumatically controlled 'fingers' .
Whilst there are competing systems on the marketplace, ILAPAK's vision counter boasts the fastest available camera technology and a unique emphasis on hygiene and accessibility.
The Vision-1000 can also serve as a valuable quality control tool, screening product flow for deformed or damaged products, such as bent and broken baguettes. If required, the system can be supplied with an integrated metal detector, which can share a reject system with the quality control module. Indeed, engineering turnkey lines, from freezer to box or bag, is ILAPAK's forté.
At IBA, the Vision-1000 will be shown feeding the Vegatronic 1000/600 , which, with a maximum bag width of 580mm and maximum film width of 1200mm, is ideal for producing catering bags of rolls. It boasts the highest seal pressure on the market - key for guaranteeing gas tight seals. The machine on display at IBA will feature a specially inclined transfer to minimise the risk of damage to fragile IQF rolls.
For bakeries looking for a conventional vibratory counting solution, ILAPAK is showcasing its Z 602 lane counter, which features several design enhancements.
The Z 602 now offers far greater flexibility on product shapes and dimensions than rival vibratory systems, which tend to be dedicated to a particular product. This is thanks to the new quick change vibratory channel design, which allows tool-less changovers between, say, standard and mini bagels.
The Z 602 can handle fresh, par baked and frozen bakery items such as rolls, bagels, croissants and donuts. For delicate products, special features such as minimised drops and adapted collector bins ensure gentle handling. The system can be supplied with between four and 12 lanes, giving a maximum throughput of 60,000 products per hour, and can be configured to produce 'mixed' bags.
Visitors to ILAPAK's booth will have a chance to see the company's latest HFFS (horizontal form-fill-seal) offering, the Carrera 6000, in action on a baguette wrapping application.
In engineering the Carrera 6000 , ILAPAK has delivered the industry's first IP65 rated fully modular flowrapper. This has been achieved through full stainless steel execution, isolating the electrical cabinet from the main machine frame and smooth, angled surfaces without recesses. This ultra-hygienic construction enables full wash down capability, even of the sealing elements.
The Carrera 6000 is capable of linear speeds of up to 100m/minute on items such as buns, biscuits, flat breads, morning goods, sliced bread, crackers and other typical bakery products.
ILAPAK anticipates plenty of interest in its new flat-bottom bag module, which allows sandwich manufacturers to produce rustic looking paper film bags with a home-made feel, at a fraction of the cost of pre-made bags.
Making block-bottom bags out of thick packaging substrates is a challenge for VFFS machines, as the thickness of the film makes it difficult to create the folds. ILAPAK has overcome this challenge by equipping its Vegatronic 2000 OF with a sophisticated carousel with servo-driven mechanical cams. Running 120 micron thick paper films at speeds of approximately 30ppm, this flexible system gives manufacturers a cost-effective, automated alternative to expensive pre-made bags.
The use of natural looking paper film (coupled with laminated film for parts in contact with product) is also a major trend in horizontal bagging. ILAPAK's Carrera machines are commonly employed to pack (with or without trays) fresh, short shelf life sandwiches.
For a longer shelf life, ILAPAK's Delta models can pack sandwiches in MAP with barrier films, paper films and laminated films; often these packs incorporate a clear front window for product visibility.
Visitors to IBA (Hall b1 Booth 410) will have the opportunity to discuss in depth with sector specialists how these and ILAPAK's other flexible packaging technologies can benefit their bakery operations and solve their packaging problems.
Featured Product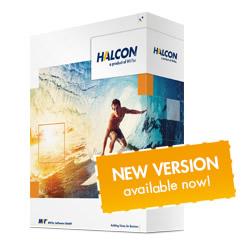 The newest version of MVTec HALCON is here to solve all of your machine vision tasks at utmost speed and robustness! Deep learning functions, like pixel-precise semantic segmentation or object detection, help you to identify and classify objects and flaws more flexibly and easier than ever before - HALCON extracts relevant image information automatically. Try it for free here!