Interactive conference offering will focus on user-centered research and design
SANTA MONICA, Calif., Sept. 2, 2015 -- UBM Canon will bring its multi-industry design and manufacturing trade show and conference to the Pennsylvania Convention Center, October 7-8, 2015. The co-located exhibitions include hallmark brands MD&M Philadelphia (Medical Design & Manufacturing), PhillyPack (packaging), Design & Manufacturing Philadelphia (product design and manufacturing for all industries), ATX Philadelphia (automation), PLASTEC Philadelphia (for the plastics industry), and Quality Expo Philadelphia (quality control and assurance).

Designed for engineers and executives looking to accelerate their careers and collaborate with peers on the industry's most pressing challenges, UBM Canon's co-located event will offer a full schedule of in-depth conference programs, networking opportunities and an interactive full-day workshop on product design.
This intensive and unique one-day Product Development workshop is focused on utilizing research when creating user-centered design. Hosted by Insight Product Development, a design innovation consultancy, the workshop will take place on Thursday October 8, 10:00am - 4:00pm.
The Insight Product Development Workshop is broken down into three key sessions throughout the day, all featuring interactive exercises for deeper understanding:
Part 1: Opportunity Identification - Correctly framing the research problem, understanding stakeholders, and designing the research to uncover thematic, high-level opportunities through data analysis
Part 2: Making Opportunities Actionable to Drive Innovation - Identifying, understanding and organizing the "universe" of opportunities into actionable design guidelines
Part 3: Driving Commercial Success by De-risking Innovation - Analyzing and mitigating project risks, user risks, and technical risks
"We're excited to lead this workshop on user-centered design, because it is relevant for nearly everyone in the industry today," says Ed Geiselhart, director of innovation and user experience at Insight Product Development. "It's the most useful lens through which we can understand whether an idea has relevance and value to the users, without which, innovation is destined to fail in the market."
Over two days, the multi-track agenda of concurrent conferences will cover the entire design & manufacturing ecosystem, including: Medical Design Innovation, New Materials and Medical Polymers, Packaging Design that Sells, and Innovations in 3D Printing.
More than 35 industry experts will share their insights at the conference, with key speakers from top companies, such as Abbot Vascular, Secant Medical, Fanuc, Caterpillar, Kraft, MC10, UL, Chevron Phillips, General Mills, and many others.
For more information about UBM Canon's six co-located events in Philadelphia and to register, please visit:
MD&M Philadelphia: mdmphilly.mddionline.com
PhillyPack: phillypack.packagingdigest.com
Design & Manufacturing Philadelphia: dmphilly.designnews.com
ATX Philadelphia: atxphilly.designnews.com
PLASTEC Philadelphia: plastecphilly.plasticstoday.com
Quality Expo Philadelphia: qualityexpo-philly.designnews.com
About UBM Canon
UBM Canon is the leading B-to-B event producer, publisher, and digital media company for the world's $3 trillion advanced, technology-based manufacturing industry. Our print and electronic products deliver trusted information to the advanced manufacturing market and leverage our proprietary 1.3 million name database to connect suppliers with buyers and purchase influencers. We produce more than 50 events and conferences in a dozen countries, connecting manufacturing professionals from around the globe. UBM Canon is part of UBM plc (UBM.L) a global provider of media and information services for professional B-to-B communities and markets.
Featured Product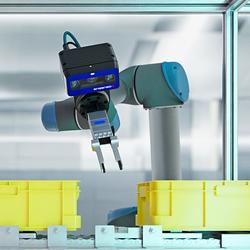 App Your Sensor®! What would smartphones be without apps? They would be mobile phones that can't do much more than make phone calls and sending SMS. Apps turn smartphones into intelligent assistants with any number of different tasks. Transferred into the world of image processing, this app-based approach transforms cameras and sensors into customised, smart vision sensors.