Free webinar on 3D printing and additive manufacturing on Sept. 17, 2015 at 9am PST.
Santa Clara, CA September 03, 2015

Park Systems announced that they will host a free webinar on 3D printing and additive manufacturing on Sept. 17, 2015 at 9am PST. The webinar will focus on the methods and materials for additive manufacturing - beyond their current understanding and application. More popularly known as 3D printing, additive manufacturing is a broad term that encompasses "addition or fusion" of materials to create an object. This is in contrast to subtractive manufacturing that involves machining, lithography, or, in general, removal of material to generate an object.
Several topics including the advantages of additive manufacturing will be presented, as well as various methods currently in use. Highlighting the limitations of materials and the challenges for high throughput will also be covered in the webinar as well as the importance of analytical methods using AFM for characterizing the surfaces and coatings of parts and prototypes manufactured via 3D printing.
To register, go to: http://bit.do/park-3d-printing
The first commercial 3D printer was invented by Charles Hull in 1984 and now additive manufacturing or 3D printing is advancing as a viable rapid prototyping technique capable of fabricating complex 3D components directly from ceramic, alloy, or metal powders. The layer-by-layer buildup process provides a range of new production possibilities such as the fabrication of complex, near net-shaped components with integrated functional properties (e.g., specialized curved cooling channels on drill bits). Many different materials can be used for 3D printing, such as ABSplastic, PLA, polyamides (e.g., nylon), stereolithography materials (e.g., epoxy resins), silver, titanium, steel, waxes, photopolymers, and polycarbonate.
Powder characteristics and processing conditions greatly influence the microstructure of the components. Besides microstructural defects that are largely detrimental to the application properties of components, the following challenges need to be addressed in additive manufacturing:
* Requirement for a high level of dimensional accuracy
* Surface quality
* Fabrication of tools with complex geometries and inner structures like cooling channels
Microscopic analyses of the components produced using Park AFM creates an accurate understanding of their microstructures. This aids engineers to comprehend the impact of process guiding and how to control for a desired quality.
"Park AFM is the most accurate AFM on the market and is optimal for analysis of microstructures in the 3D printing process for determining surface structural microscopy for critical path failure analysis assessments," comments Keibock Lee, President of Park Systems.
In general, any polymer, metal, and other non-metallic materials will have a change in roughness or other surface properties that can be probed for possible failure of thermo mechanical properties or can be otherwise analyzed to refine a successful fabrication process. Uniformity, consistency, tolerance, and other figures of merit can be evaluated for any manufacturing process where precision parts are made. Vertical resolution— trenching—is a particularly important feature to analyze.
"AFM is closer to other lithography methods and therefore the lithographic additive manufacturing methods like SLA and other printing and sintering methods, especially at the micron resolution, can take advantage of the AFM method," commented Professor Rigoberto Advincula of Case Western Reserve University.
Often the failure of materials properties has microscopic origins. Park AFM helps analyze the produced components and their microstructures because it can perform mm to nm probe-based measurements. In the additive manufacturing process, layers are added over one another or a resin is photo-polymerized using precise micromechanical movements and lenses. AFM is ideal for investigating these ranges of morphologies and structures thereby enabling even more comprehensive failure or performance assessments.
3D printing is currently being used for many industry applications including the fabrication of parts that are made in limited quantities (highly complex parts) and prototypes from digital designs such as devices and implants that take their forms from data obtained using high resolution biomedical imaging. 3D printing is also used in the preparation of polymer and ceramic parts that can replace sections of the skull and other bones as well as the microfabrication of parts used for micro electromechanical systems, or MEMS, devices. A goal is to produce high-performance polymers and metals that can be used as actual final production parts in extreme conditions well past the prototype phase.
About the Webinar
Title: 3D Printing and Additive Manufacturing
Date: Sept 17, 2015
Time: 9am PST
To Register, go to: http://bit.do/park-3d-printing
Pre-requisite: Appreciation of nanocomposites and additives in formulations is preferred but not required.
About Prof. Rigoberto Advincula
Prof. Rigoberto Advincula, Director of the Petro Case Consortium, is recognized industry-wide as an expert regarding polymer and materials challenges of the oil-gas industry. He is currently a Professor with the Department of Macromolecular Science and Engineering at Case Western Reserve University and is the recipient of numerous awards including Fellow of the American Chemical Society, Herman Mark Scholar Award of the Polymer Division, and Humboldt Fellow.
About Park Systems
Park Systems is a world-leading manufacturer of atomic force microscopy (AFM) systems with a complete range of products for researchers and industry engineers in chemistry, materials, physics, life sciences, semiconductor and data storage industries. Parks products are used by over a thousand of institutions and corporations worldwide. Parks AFM provides highest data accuracy at nanoscale resolution, superior productivity, and lowest operating cost thanks to its unique technology and innovative engineering. Park Systems, Inc. is headquartered in Santa Clara, California with its global manufacturing, and R&D headquarters in Korea. Parks products are sold and supported worldwide with regional headquarters in the US, Korea, Japan, and Singapore, and distribution partners throughout Europe, Asia, and America. Please visit http://www.parkafm.com or call 408-986-1110 for more information.
Featured Product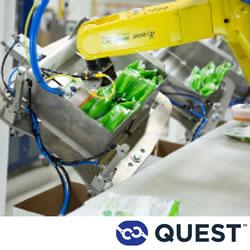 Quest is a leading manufacturer of industrial automation equipment focusing on robotics and vision-guidance. With expertise in the food, beverage, and dairy, Quest optimizes floor space for customers experiencing growing demand and helps improve their overall production line flexibility and efficiency. Quest offers application-specific software on their robotic products, including pick and place, case packing, and palletizing systems to simplify system setup and streamline configurability. Quest is a product brand of ProMach, a global leader in packaging line solutions.