During the show, the industry leading Benchmark Automation InFlight FT feeder seamlessly delivers precise continuous motion loading of product to the companys CPX 18 shrink wrapper. (Benchmark Automation Pack Expo Booth C-3619
ATHENS, Georgia September 03, 2015

Benchmark Automation, powered by Pro Mach, showcases at Pack Expo Las Vegas 2015, September 28-30, its innovative InFlight FT (floating transfer) feeder for non-contact loading of bakery and other delicate products and its servo controlled CPX 18 horizontal shrink wrapper. (Benchmark Automation Pack Expo Booth C-3619)
Benchmarks advanced control algorithms are the key to its industry leadership in high speed - up to 600 products per minute, depending on product dimensions - continuous motion loading of product that cannot be backlogged. Floating belt-to-belt transition times a single lane of randomly spaced products into flights, or directly onto the film in registration, for both soft and hard film wrappers. The InFlight FT is ideal for fragile, enrobed, or sticky products found in the bakery, confectionary, non-baked food, personal care, and other industries. Its rugged stainless steel frame and guards, overall design, and paint free surfaces are ideal for the bakery and other sanitary environments.
At the show, the InFlight FT is integrated with the CPX 18 Horizontal Shrink Wrapper. The CPX 18 accepts a variety of products fed automatically from the InFlight Loader, and also can be fed by hand, or by any of Benchmarks family of automatic infeed solutions. The units servo driven end-seal jaw combined with precise continuous motion loading reduces film use and increases uptime. The companys EZ Thread technology reduces changeover time. A no-product/no-pack feature reduces waste and ensures quality packing.
A Benchmark Automation Slugger SL semi-automatic slug loader will also be on display at the booth. The Slugger SL, which is principally used for crackers and other baked goods, delivers precise slug measuring and loading from a single lane of on-edge product. The Slugger SL mounts in-line with an on-edge horizontal wrapper and loads slugs at speeds up to 150 slugs per minute. This loader is ideal for high-speed slug loading without the cost of an elaborate, dedicated distribution system. Return on Investment is typically under a year.
For more information on Benchmarks high-quality conveyors, infeed, loading, stacking, and packaging equipment for the food and bakery industries, call 706-208-0814. Visit http://www.BenchmarkAutomation.net.
About Benchmark Automation
Since 2001, Benchmark Automation has addressed the key concerns facing today's food manufacturers. Benchmark Automations packaging automation equipment is engineered for efficient, reliable operation and quick changeovers with minimal maintenance and sanitation required. The companys professional, dependable service technicians and a complete inventory of spare parts ensure the highest possible uptime for its customers. http://www.BenchmarkAutomation.net
About Pro Mach
Pro Mach is a leading provider of integrated packaging and processing products and solutions for food, beverage, consumer goods, pharmaceutical, and other diverse companies. Through its brands, Pro Mach provides product packaging and processing equipment, PMMI certified training, installation, parts, and service in Bottling & Capping, Primary Packaging, Flexible Packaging, Material Handling, Labeling & Coding, and End-of-Line.
Pro Mach has a diverse customer base, from Fortune 500 companies to smaller, privately held businesses worldwide, which depend on reliable, flexible, technologically advanced equipment and integrated solutions. Pro Mach is headquartered near Cincinnati, Ohio, with manufacturing facilities and offices throughout the United States, Canada, Mexico, and Europe. For more information about Pro Mach, visit http://www.ProMachInc.com.
Featured Product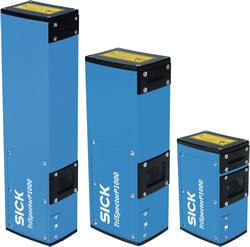 LiDAR (Light Detection and Ranging) is one of the most reliable methods for parts sensing in factory automation today. SICK has made this technology affordable and easy to use! Click on the video link below to learn about the TiM1xx LiDAR sensor and how it provides: - Area scanning LiDAR technology in a standard sensor package - 200-degree field of view and 3 meter sensing range allows for 169 square feet of area scanning - Compact size and light weight enables ease of deployment in "non-standard" type applications, like end-of-arm robotic tooling - Wide area scanning without having to mount a transmitter and receiver makes installation much easier - IO Link for easy configuration