An ABB robots debut on NBCs "Americas Got Talent" showcases the growing role of robots in the entertainment industry and their increasing prominence in everyday life.
Cary, N.C. (September 10, 2015) - ABBs IRB 2400 robot today filed for its Screen Actors Guild (SAG) membership to raise awareness of growing robotic contributions in the entertainment industry. ABB is one of the worlds leading manufacturers of industrial robots and recently became the only major robotics producer to open a manufacturing facility in the United States.

The ABB robot made its star debut at New Yorks Radio City Music Hall on NBCs hit show "Americas Got Talent" on Tuesday. The robot performed with Freelusion, an innovative dance group that combines choreography and 3D projection mapping for stunning visual and emotional effects.
"While robotic engineers do not receive recognition on the red carpet at the Emmy Awards, advanced technology manufacturing, from companies like ABB, is certainly something the nation can be proud of," said Keith Fox, vice president of Robots and Applications, ABB North America. "ABBs IRB 2400 robot does not have a social security number for its SAG application, but we want to recognize the technological innovation and groundbreaking nature of robotic entertainment nonetheless."
ABB robots have previously performed alongside some of the worlds most famous entertainers:
· ABB robots toured with Bon Jovi to power the rotating screens on-stage during his performance.
· Marvel Studios cast the IRB 120 robot for a scene in Iron Man 3.
· The Chemical Brothers featured ABB robots in the music video for their single, "Believe."
· ABB robots shared starring roles in Warner Brothers Studios Terminator Salvation movie.
In addition, ABB robots have taken center stage in grandiose permanent installations in the cruise ship industry with the recent installation of a RoboScreen entertainment system onboard Royal Caribbeans newest and most technologically advanced cruise ship, Quantum of the Seas.
When the IRB 2400 is not posing for paparazzi on the red carpet, it is hard at work on the manufacturing floor delivering many of the benefits that the industrial world has come to depend on robotic automation for, including increased quality, consistency and throughput of manufactured products. The IRB 2400 is well-known throughout the industry for delivering reliability, accuracy, strength and versatility.
Demand for industrial robots globally is expected to grow by 12 percent each year through 2017, according to a recent report by the International Federation of Robotics.
Given their success and accolades in the industrial world, we expect robots will have their own stars on Hollywoods Walk of Fame in no time.
About ABB Robotics
ABBs Robotics Business Unit (www.abb.com/robotics) is a leading supplier of industrial robots - also providing robot software, peripheral equipment, modular manufacturing cells and service for tasks such as welding, handling, assembly, painting and finishing, picking, packing, palletizing and machine tending. Key markets include automotive, plastics, metal fabrication, foundry, electronics, machine tools, pharmaceutical and food and beverage industries. A strong solutions focus helps manufacturers improve productivity, product quality and worker safety. ABB has installed more than 250,000 robots worldwide.
About ABB
ABB (www.abb.com) is a leader in power and automation technologies that enable utility, industry, and transport and infrastructure customers to improve their performance while lowering environmental impact. The ABB Group of companies operates in roughly 100 countries and employs about 140,000 people. North America is the largest market for ABB products and services, with headquarters in Cary, North Carolina.
Featured Product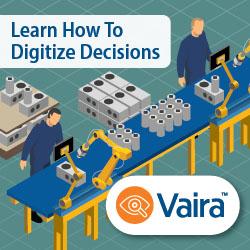 Seamless, Smart Inspection. Designed to work with existing inspection hardware and software, the embedded platform integrates plug-in vision inspection AI skills, a user-friendly approach to integrate custom capabilities, and a powerful NVIDIA GPU to accelerate the development of more advanced machine learning and computer vision algorithms.