Polymaker Partnering with Covestro to Provide Enhanced 3D Printing Materials to Designers, Engineers and Hobbyists Alike
SHANGHAI September 14, 2015

Polymaker, an innovative producer of high-quality filament for Extrusion-Based Desktop 3D printers, unveils Polymaker PC, a new line of polycarbonate-based materials specifically designed for Extrusion-Based Desktop 3D printers. To date, polycarbonate has only been available to those with expensive industrial 3D printers, or a very niche set of Extrusion-Based Desktop 3D printers.
The first two members of this new material family are Polymaker PC-Plus and PC-Max, which have been formulated and engineered to bring polycarbonate to the Extrusion-Based Desktop 3D printers. They have achieved this by lowering the printing temperatures from 300 - 320 ºC down to a moderate 250 - 270 ºC, and significantly improving the warping resistance. Polymaker PC-Max further offers advanced mechanical properties—toughness, in particular—making it suitable for mechanically demanding applications.
The introduction of Polymaker PC is the result of Polymaker partnering with Covestro, formerly Bayer Material Science. Covestro, which provided the raw polycarbonate resins for Polymaker PC, has built a stellar reputation as a world-leading supplier of innovative, sustainable and diverse high-tech polymer materials. Polymaker's material scientists work closely with the Covestro team to enhance the formulation of the polycarbonate 3D filament to imbue it with unprecedented properties and functionalities for 3D printing.
"Covestro's expertise, portfolio of products and industry leadership will be invaluable to our mission to provide the industry with the best materials with the performance, reliability and safety that will inspire our customers and expand our product portfolio," said Dr. Xiaofan Luo, CEO of Polymaker.
Echoing this enthusiasm was Tim Efthimiady, Senior Vice President of the Polycarbonate Business Unit of Covestro: "We see the integration of our high-tech polymer materials in the field of 3D printing as a means to drive next-generation design and production solutions. We are very excited to work with Polymaker as we enter this burgeoning industry."
Some of the key advantages of Polymaker PC compared to existing 3D printing materials are:
* Heat Resistance: Unlike projects made with PLA or ABS material, those made with Polymaker PC will withstand temperatures of well over 100 °C. This makes it ideal for lighting, engineering, and practically any device or part that requires good structural stability when exposed to heat.
* Excellent Mechanical Properties: being one of the most widely used engineering plastics in the world; PC has an excellent reputation for mechanical properties. Polymaker PC inherits these qualities while being fully compatible with desktop 3D printing. Parts made with Polymaker PC show much improved mechanical strength under almost all different deformation modes. Polymaker PC-Max further provides excellent impact resistance and toughness.
* Post-Processing Capabilities: Polymaker PC can easily be post processed by sanding, coating, or other methods to suit the users' functional needs.
Additional functional properties include intrinsic flame retardance, optical clarity, and resistance to chemicals and solvents. Polymaker will continue to develop new functional 3D printing materials based on PC.
"Polycarbonate has properties that make it very desirable for the 3D printing community as a whole, and Polymaker PC makes it even better for creative designers and engineers at every stage of the production process" added Dr. Luo. "Its excellent engineering and functional properties open doors to new projects and applications that were not previously possible to those with desktop 3D printers."
"We look forward to working with the entire community—printer manufacturers, software developers, designers, and makers—in further developing Polymaker PC," commented Aaron Jennings, marketing and communications manager, Polymaker. "We want to help users of 3D printing achieve their goals, and to open new possibilities for 3D printing."
Polymaker PC-Plus (MSRP $39.99 per reel, or $46.99 bundled with a 8" x 8" BuildTak sheet) will be available in October on the Polymaker website (http://www.polymaker.com) and through Polymaker's worldwide distributor network. Polymaker PC-Max will be available before the end of this year. To see this material in action, as well as the other remarkable 3D printing materials in the Polymaker product line, please visit Polymaker's YouTube Channel (http://bit.ly/1HP7BVv) or like, post and tweet on there Facebook and Twitter Channels.
Featured Product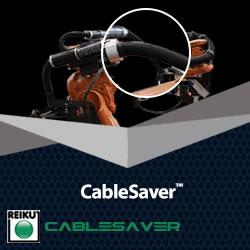 REIKU's Cable Saver™ Solution eliminates downtime, loss of revenue, expensive cable and hose replacement costs, maintenance labour costs. It's available in three sizes 36, 52 and 70 mm. All of the robots cables and hoses are protected when routed through the Cable Saver™ corrugated tubing. The Cable Saver™ uses a spring retraction system housed inside the Energy Tube™ to keep this service loop out of harms way in safe location at the rear of the Robot when not required. The Cable Saver™ is a COMPLETE solution for any make or model of robot. It installs quickly-on either side of the robot and has been tested to resist over 15 million repetitive cycles.