Adds Robotics to Strengthen Industrial Automation Business
KYOTO, Japan & PLEASANTON, Calif.--OMRON Corporation (President & CEO: Yoshihito Yamada [TOKYO:6645]) ("OMRON"), a global leader in the field of automation based on its core sensing and control technology, and Adept Technology, Inc. (President and Chief Executive Officer: Rob Cain [NASDAQ:ADEP]) ("Adept"), a global, leading provider of intelligent robots, autonomous mobile robot solutions and services, today announced that the two companies have entered into an agreement whereby OMRON will acquire Adept.

OMRON plans to acquire 100% of the outstanding shares of Adept common stock through an all cash tender offer followed by a second-step merger. OMRON will offer Adept investors $13.00 per share of Adept common stock, which represents a 63% premium over the closing price for Adepts common stock on September 15, 2015. This values Adept at approximately $200 million. OMRON will fund the tender offer through cash on hand.
The tender offer is expected to commence on or about September 23, 2015, and the transaction is expected to close on or about October 22, 2015. The closing of the transaction is subject to customary closing conditions, including at least a majority of shares of Adept common stock being tendered in the offer, expiration of the applicable waiting period under the Hart-Scott-Rodino Antitrust Improvements Act of 1976 and receipt of required foreign antitrust approvals. The transaction has been unanimously approved by the Boards of Directors of both companies.
Commenting on the acquisition, Yutaka Miyanaga, OMRON Industrial Automation Business Company President, said, "We are delighted Adept Technology, a world leader in robotics, has agreed to join OMRON. This acquisition is part of our strategy to enhance our automation technology and position us for long term growth. Robotics will elevate our offering of advanced automation."
Rob Cain, President and Chief Executive Officer of Adept, added, "We are excited about the opportunity to join OMRON, a global leader in automation. Together, our products will offer new innovative solutions to customers all around the globe."
Following the transaction, Rob Cain will continue to lead Adept and will report to Nigel Blakeway, Chairman, Chief Executive Officer and President of Omron Management Center of America, Inc., OMRONs wholly owned United States subsidiary.
As global manufacturing comes under even more pressure to cut costs, shorten supply cycles and operate across global environments, production sites around the world strive to improve productivity. Increased use of labor-saving robots is one of the solutions. By adding the robotics technology of Adept to its current offering, OMRON will be very well positioned to provide manufacturers in the automotive, digital device, food and beverage, packaging, and other industries with solutions to these challenges, as well as engineering support.
Founded in 1983, Adept is listed on NASDAQ under the ticker symbol ADEP. The company recorded annual sales of $54.2 million and gross margin of 42.0% in the fiscal year ended June 30, 2015.
Adept is a leading U.S. based manufacturer of industrial robots. Adepts intelligent automation product lines include autonomous mobile robots, industrial robots, configurable linear modules, machine controllers for robot mechanisms and other flexible automation equipment, as well as machine vision systems and software. Adepts strategy is to provide a broad range of highly reliable integrated products along with world-class service to allow manufacturers to maximize productivity, safety, flexibility and product quality.
This acquisition is a part of the acceleration of OMRONs "ILO+S" (Input, Logic, Output and Safety) strategy for its Industrial Automation Business, which provides automation solutions for the manufacturing industries.
OMRON currently has the most comprehensive automation product portfolio in the world that spans the spectrum of ILO+S for automation systems. By acquiring Adept, OMRON will further enhance this offering by adding R (robotics) and advancing its strategy to "ILO+S+R" to meet the needs of customers.
Robert W. Baird & Co. is acting as financial advisor to OMRON and Foley & Lardner LLP is acting as legal counsel. Mooreland Partners LLC is acting as financial advisor to Adept and Gibson, Dunn & Crutcher LLP is acting as legal counsel.
About Adept Technology
Adept is a global, leading provider of intelligent robots, autonomous mobile robot solutions, and services that enable customers to achieve precision, speed, quality and productivity in their assembly, handling, packaging, testing, and logistical processes. With a comprehensive portfolio of high-performance motion controllers, application development software, vision-guidance technology and high-reliability robot mechanisms with autonomous capabilities, Adept provides specialized, cost-effective robotics systems and services to high-growth markets including medical, electronics, food and semiconductor; as well as to traditional industrial markets including machine tool automation and automotive components. More information is available at www.adept.com
About OMRON Corporation
OMRON Corporation is a global leader in the field of automation based on its core technology of sensing and control. OMRONs business fields cover a broad spectrum, ranging from industrial automation and electronic components to automotive electronic components, social infrastructure systems, healthcare, and environmental solutions. Established in 1933, OMRON has about 39,000 employees worldwide, working to provide products and services in more than 110 countries and regions.
In the field of industrial automation, OMRON supports manufacturing innovation by providing advanced automation technology and products, as well as through extensive customer support, in order to help create a better society. For more information, visit OMRONs website: www.omron.com.
Featured Product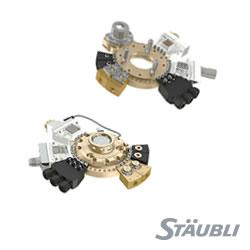 Stäubli is a pioneer in the construction and development of robotic tool changing systems. Our customers benefit from our many years of expertise in all industry sectors, as well as our modular product concept, which offers three efficient solution paths: MPS COMPLETE offers preconfigured robotic tool changers for immediate use. MPS MODULAR allows the user to determine the configuration, while MPS CUSTOMIZED allows the construction of special, application-specific systems.