RoboBusiness 2015, September 23-24 at the San Jose Convention Center in San Jose, Calif.
MORTON, Ill.--AutonomouStuff, known throughout the world as a leader in supplying components and services that enable autonomy, will showcase cutting-edge robotics technologies in booth 301 at RoboBusiness 2015. Over 2,000 business leaders are expected to attend the event dedicated to business transformation through robotics innovation September 23-24 at the San Jose Convention Center in San Jose, Calif.

"This show provides a great platform to build relationships with key industry players and check out the latest in robotics solutions," said AutonomouStuff CEO Bobby Hambrick. "We are very excited to feature our new PolySync demo kit and work with amazing partners at RoboBusiness."
AutonomouStuff's PolySync Demonstration Kit provides all the components needed to begin an autonomous application. The demo kit's plug-and-play capabilities allow you to quickly and easily build an autonomous platform. It is fully customizable, allowing users to select sensors to suit their needs. The AutonomouStuff booth will also feature products from partners LeddarTech and Pepperl+Fuchs, as well as Carnegie Robotics' MultiSense SL - a tri-modal, high-resolution, high-data-rate and high-accuracy 3D range sensor - which was used by many of the robots in 2015's DARPA Robotics Challenge.
About AutonomouStuff
Headquartered in the heart of Illinois, AutonomouStuff reaches the world as the leading single-source supplier of autonomous components and services. The company was founded with the goal of bringing together the world's best technologies to enable autonomy and increase safety.
A main focus at AutonomouStuff is customer success. Customers value the convenience of finding perception, computing, GPS and interface components in one location. For more information, visit www.AutonomouStuff.com.
Featured Product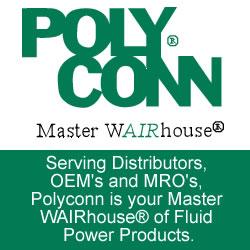 We can produce pneumatic hose and other pneumatic products to match your exact specifications. Our proficient engineering and quality management, coupled with outstanding customer service means Polyconn delivers high quality pneumatic components at competitive prices. Place your order or contact Polyconn for more information on our pneumatic hoses, pneumatic manifolds, Duratec® Pipe or any of our other top quality pneumatic products and components.