Digital Elite Inc. today announced its new product line of Augmented Reality paper headsets designed for children to open up new possibilities in the future of education. The unique high quality cardboard viewer was deployed to support a number of novel K12 educational applications ranging from the realm of virtual robots that teach physics and geography to a new interactive playbook which helps the development of autistic children.
Los Angeles, CA September 18, 2015

Digital Elite Inc. today announced its new line of low-cost head mounted augmented reality paper viewers developed specifically for the K12 and special education market. A number of novel applications in the field of robotics, virtual physics and a unique book for autism is already readily supported by the viewer. More Apps in the pipeline are being developed to support traditional immersive and virtual experiences with the help of a technology called panoramic broadcasting (PanoCAST) (http://www.panocast.com)
WATCH DEMO VIDEO: http://youtu.be/av-cLq09w3k
In a comprehensive scientific study the new viewers have successfully challenged the position of more expensive VR headsets, such as the Samsung/Oculus Gear VR and Zeiss VR One, reaching the highest combined mark for wide field of view, comfort and price/value ratio. The customizable paper viewers were successfully tested in a number of real-life education scenarios and Apps as well. One example includes, a virtual robot teaching physics and geography that can be deployed in an Augmented Reality (AR) application to break down the final frontier between physical robots and their virtual counterparts.
"Virtual robots are very credible and readily acceptable to our children because of their daily experience with e.g. Transformers and Lego robots. Our new 3D Augmented Reality robotics solution will extend the classical areas of 360Âş experiences (such as gaming, music, trade shows and film) to the challenging new domain of virtual education and special care for autism ... and most importantly it does so at the price of a piece of cardboard." says Dr. Barnabas Takacs, founder of Digital Elite.
The virtual robots were first subjected to psychological validation and testing using automatic facial analysis tools before they were hooked up to teach physics to young children acting as their educational companions.
"We were happy to team up and integrate our award-winning science education software (LabCamera, which is part of Intel Education & Physics) with the augmented reality Zeno robot to facilitate learning and add more fun to education. By being able to send positive and negative feedback on how well our students do while experimenting with physics, can open up novel possibilities never before imagined." said Zsolt Szigetlaki, CTO of Intellisense. (http://www.intellisen.se )
Digital Elite's high fidelity interactive virtual humans as well as the company's VR/AR technology have been used in research to help autistic children for over a decade. Augmented Reality and Autism go hand-in-hand with a new genre of book publications just entering the market. The new PanoCAST paper viewers just released will be used to create new types of learning experiences for all ages.
"We already see that happening." adds Sarah Jackson Founder of PlayPointe (http://www.playpointe.com), an Augmented Reality Children's book company. PlayPointes mission is to bridge the gap between technology and content, disability and neurotypical products and improve access to resources for families affected by disability. "Our new series of Head in the Clouds focuses on the circus dreams of its two young characters, Jack and Abby. This PlayPointe Playbook is unique because, in addition to being a traditional storybook, the book also includes coloring pages; a custom Augmented Reality application and game play interaction. Children of all abilities can immerse themselves in Jack and Abbys adventures all while developing language, turn-taking, following directions, fine motor skills and sensory exploration. Children can color the pages and see them come to life right in front of them through marker based Augmented Reality."
Digital Elite believes its new product line will reach similar popularity to Google's Cardboard viewer, which was the first step on the road to creating low-cost, dispensable virtual reality headsets for everybody to enjoy and benefit from.
Featured Product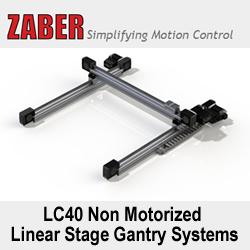 Zaber's X-LRQ-DE Series of linear stages have high stiffness, load, and lifetime capabilities in a compact size. The integrated linear encoder combined with stage calibration provides high accuracy positioning over the full travel of the device. At 36 mm high, these stages are excellent for applications where a low profile is required. The X-LRQ-DE's innovative design allows speeds up to 205 mm/s and loads up to 100 kg. Like all Zaber products, the X-LRQ-DE Series is designed for easy set-up and operation.