Smart machines that thrive in connected manufacturing environments highlighted at Center for Trends and Technology booth
MILWAUKEE, Sept. 21, 2015 — Smart machines harnessing the power of The Connected Enterprise can help manufacturers gain new insights into their operations, improve asset utilization and strengthen information security. The Center for Trends and Technology (CTT) booth (C-4829) at PACK EXPO International 2015 will address smart manufacturing and other critical topics, such as serialization, machinery safety, mobility, cloud computing, network security, line integration and line optimization. The CTT booth is sponsored by Rockwell Automation and its PartnerNetwork program members.

"Companies adopting a smart manufacturing approach are converging their information technology (IT) and operations technology (OT) systems into a single unified network architecture known as The Connected Enterprise for greater connectivity and information-sharing," said Mike Wagner, global OEM business lead at Rockwell Automation. "But The Connected Enterprise is only as powerful as the technology on which it is built. As a result, companies need OEM partners capable of delivering smart machines that accelerate demand-driven manufacturing within The Connected Enterprise."
The CTT booth is a one-stop spot for PACK EXPO attendees to join educational sessions, ask questions and meet with industry experts regarding smart manufacturing and other topics. The booth will include "Ask the Expert" kiosks and an interactive Rockwell Automation Integrated Architecture wall, which will show the scalability of control solutions from Rockwell Automation for standard and custom machines. It will also feature a demonstration of the Rockwell Automation serialization solution, which takes a holistic approach to product tracking and traceability to help strengthen manufacturers supply chains and support compliance with emerging anti-counterfeiting regulations.
The CTT booth will host informative 30-minute presentations from leading companies, including Cisco, Grantek Systems, Microsoft Corporation, Rockwell Automation and Stone Technologies Inc. Presentation topics include ensuring machinery safety, compliance and productivity; remote asset management in the cloud; network security and connectivity; line integration and analytics; and Drug Supply Chain Security Act compliance.
In addition to the activities at the CTT booth, attendees can receive tours of OEM booths to see technologies in action. OEM partner CAMA S.P.A. and OEM participant IASE Company Inc. will be exhibiting new solutions leveraging the iTRAK system from Rockwell Automation. The motion control technology provides independent control of multiple movers on straight or curvilinear paths, and replaces rotary-driven chains, belts and gears, while helping increase overall machine performance.
Attendees can also visit the nearly two dozen additional Rockwell Automation OEM partners exhibiting at PACK EXPO International 2015, including Aagard, ADCO Manufacturing, ARPAC, Bradman Lake Inc., Cavanna Packaging USA, Columbia Machine, Combi Packaging Systems, Delkor Systems, Douglas Machines Corp., Focke & Co., Intelligrated, Kliklok-Woodman, MASSMAN Automation Designs, Nercon Engineering & Mfg, NJM Packaging, OPTIMA Machinery Corporation, Osgood Industries, Pearson Packaging Systems, Schneider Packaging Systems Co., Tetra Pak, Triangle Package Machinery Co., and Wulftec/M.J. Maillis Group.
About the Rockwell Automation PartnerNetwork Program
The Rockwell Automation PartnerNetwork program offers global manufacturers access to a collaborative network of companies mutually focused on developing, implementing and supporting best-in-breed solutions to achieve plantwide optimization, improve machine performance, and meet sustainability objectives.
About Rockwell Automation
Rockwell Automation Inc. (NYSE: ROK), the worlds largest company dedicated to industrial automation and information, makes its customers more productive and the world more sustainable. Headquartered in Milwaukee, Wis., Rockwell Automation employs about 22,500 people serving customers in more than 80 countries.
Featured Product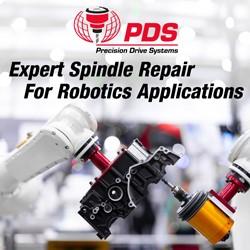 Precision components machined by CNC robot machining systems require compact, lightweight, and high-speed motorized spindles capable of delivering higher efficiency, performance, and reliability than those used in many other industries. That's why manufacturers of milling, cutting, trimming, grinding, polishing, and deburring trust Precision Drive Systems (PDS) to provide accurate and dependable spindle repair to perform to the most exacting standards.