SunLase, at Pack Expo 2015, September 28-30, at the Las Vegas Convention Center.
LAS VEGAS--Videojet Technologies, a global leader in coding, marking and variable data printing solutions, will partner with Sun Chemical to demonstrate an on-pack laser marking solution, SunLase, at Pack Expo 2015, September 28-30, at the Las Vegas Convention Center.

SunLase, a transparent or tinted coating that is pre-printed onto packaging material, enables brand owners to add information after the filling and closure of the pack. The SunLase patch changes to black as it reacts to CO2 or fiber lasers. The result is a clear, crisp bar code, logo or text on the package.
"Whether marking cases and cartons for supply chain management, track and trace requirements or late-stage pack differentiation, brand owners are demanding the flexibility and variable data that lasers can provide," said Peter Lindstrom, North American Product Manager for Videojet. "With SunLase technology, our lasers produce an enhanced mark quality for excellent readability throughout the supply chain."
At Pack Expo, Videojet will showcase the SunLase solution with the Videojet 3330 laser marking system. This high performance CO2 laser delivers a powerful combination of performance and flexibility for high resolution marking on cases and cartons running at moderate to high speeds. Its 21 mark field and focal distance combinations help produce complex, permanent codes.
"Both long and short-run operations can enjoy the flexibility to add information like ingredients, logos, bar codes and other tracking information to packaging late in production," Lindstrom said. "As a solvent and ink-free solution, laser marking offers additional advantages including low odor and low consumables. We are proud to partner with Sun Chemical to provide our customers with the operational and functional benefits of SunLase technology and Videojet laser marking systems."
For more information please visit the Videojet booth #C-1841 and Sun Chemicals booth #S-7476 during PACK EXPO, or visit www.videojet.com or www.sunchemical.com/product/sunlase.
About Sun Chemical
Sun Chemical, a member of the DIC group, is the world's largest producer of printing inks and pigments and a leading provider of materials to packaging, publication, coatings, plastics, cosmetics, and other industrial markets. With annual sales of more than $3.5 billion, Sun Chemical has over 8,000 employees supporting customers around the world.
Sun Chemical Corporation is a subsidiary of Sun Chemical Group Coöperatief U.A., the Netherlands, and is headquartered in Parsippany, New Jersey, U.S.A. For more information, please visit their website at www.sunchemical.com.
About Videojet
Videojet Technologies is a world-leader in the product identification market, providing in-line printing, coding, and marking products, application specific fluids, and product life cycle services. Our goal is to partner with our customers in the consumer packaged goods, pharmaceutical, and industrial goods industries to improve their productivity, to protect and grow their brands, and to stay ahead of industry trends and regulations. With our customer application experts and technology leadership in continuous inkjet (CIJ), thermal inkjet (TIJ), laser marking, thermal transfer overprinting (TTO), case coding and labeling, and wide array printing, Videojet has more than 325,000 printers installed worldwide. Our customers rely on Videojet products to print on over ten billion products daily. Customer sales, application, service, and training support is provided by direct operations with over 3,000 team members in 26 countries worldwide. In addition, the Videojet distribution network includes more than 400 distributors and OEMs, serving 135 countries.
Featured Product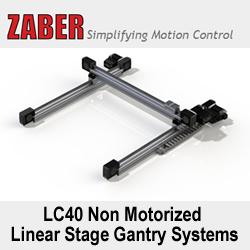 A Zaber gantry kit comes with everything you need to build a customized XY gantry system or XYZ gantry system. These gantry systems feature coordinated multi-axis motion, plug-and-play operation, easy integration with end-effector options, and built-in IO and E-Stop capabilities. An intuitive ASCII interface allows the user to easily communicate with the gantry systems using our free software, either Zaber Motion Library with APIs for several popular languages or Zaber Console. Third party terminal programs that can communicate over a serial port can also be used.