Partnership with 3D Systems builds Hawk Ridge Systems full line of 3D solutions for engineers and designers with new additive manufacturing lab in Santa Clara
SANTA CLARA, Calif.--Hawk Ridge Systems, a leading global provider of 3D engineering and manufacturing solutions, announces its new Digital Manufacturing Lab to showcase the full line of professional and production 3D printers. With its successful partnership with 3D Systems entering its third year, the union has created a seamless one-stop shopping experience for Hawk Ridge customers.

"Our customers have been asking us for an environment to test and prototype their 3D designs. With the Digital Manufacturing Lab, this is now possible. With the technological advances in additive manufacturing and the lower price point of entry, 3D printing has truly become the game-changer that the industry experts touted it to be," says Dale Ford, President and CEO of Hawk Ridge Systems.
A series of monthly 3D Printing Open Houses are open to engineering and designing professionals who are interested in professional or production grade 3D printers. It is a place to educate yourself on the benefits of 3D printing, as well as work with the Hawk Ridge Systems team of 3D design and manufacturing experts to prototype your own models. With the most popular ProJet 3D professional series, the technology includes color jet, multi jet, and stereolithography (SLA). The ProX Production Series includes metal and nylon selective laser sintering (SLS) technology in addition to large frame SLA systems. The 3D Printer Buyers Guide is an excellent resource to learn about the different technologies. A Request for Sample 3D Printed Part is also available.
Hawk Ridge Systems CEO Dale Ford remarks on the strategic partnership with 3D Systems, "The partnership between Hawk Ridge Systems and 3D Systems is the ideal meld of innovation and shared values. Collectively, we are dedicated to bringing our customers the most technologically advanced and cost-effective 3D solutions on the market. The reduced time to market for product production through prototyping is significant. We have had customers come into the Lab, and buy a $100,000 system the next day. The bottom line savings are just that great."
Just across from the San Jose Airport, the Digital Manufacturing Lab is easy to reach and the showcase of 3D printing parts crosses a wide array of industries and uses. Sign up for a 3D Printer Open House.
About Hawk Ridge Systems
Hawk Ridge Systems is a global leader of 3D engineering and manufacturing solutions. Innovative 3D design platforms include SOLIDWORKS 3D design, CAMWorks manufacturing software, and 3D Printing solutions. With 17 offices in the United States and Canada, Hawk Ridge Systems is recognized as the #1 global provider of Dassault Systèmes SOLIDWORKS and for its award winning services and technical support.
Featured Product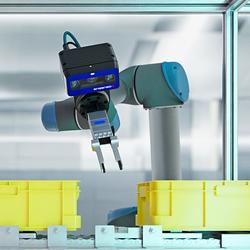 IDS NXT: a platform for a new generation of vision systems for industrial applications. It lays the groundwork to provide easy-to-use yet flexible complete systems that can be used to implement all steps of a vision solution. With IDS NXT ocean, a complete solution especially for AI-based image processing is now available. It allows to solve tasks where classic, rule-based image processing has reached its limits - without any programming effort.