"This capper also makes closure application adjustability, changeovers and maintenance quick and easy"
INDIANAPOLIS--Closure Systems Internationals (CSIs) capping equipment designers, systems engineers and closure designers collaborated to develop the Intelli-Torq Servo Capper. This computer-controlled capping machine continuously monitors and documents application torques. It also tracks closure specific application angle requirements to ensure package seal integrity and calibrates automatically. These features result in unmatched in-line quality assurance for bottlers and easy-to-open packages for consumers. Consistent, proper closure application reduces removal torque variability, helping to deliver a pleasant user opening experience, fewer complaints and maximum operational efficiency.

Intelli-Torq is the fastest servo capper on the market, running at up to 50 bottles per minute/3000 bottles per hour per head. The machine can be purchased with 4-36 heads, depending on the bottlers needs. "Intelli-Torqs intelligent processing system ensures the closures are applied consistently, without torque variance, whether the line is running at one bottle per minute or 1000 bottles per minute," stated Jack Petersen, CSI Packaging Equipment Sales Engineer.
"This capper also makes closure application adjustability, changeovers and maintenance quick and easy," Petersen further explained. The machine operates based on pre-set application recipes with the flexibility to change closure application profiles with a simple, two-step, menu-driven process that is displayed on the operators HMI computer screen. In addition, the Intelli-Torq capper incorporates full stainless steel construction that prevents corrosion, and it has an open design that facilitates easy cleaning and rinsing.
CSIs Intelli-Torq Servo Capper sets the standard for plastic closure application on plastic and glass bottles across many market segments and filling processes. It is the perfect solution for aseptic, cold and hot-fill beverages, food, pharmaceutical, automotive fluids, personal care, home care and custom applications.
The Intelli-Torq Servo capper will be integrated with a Bevcorp filler that will be on display at Pack Expo this month. To see "The Power of Applied Intelli-Torq Technology", visit Bevcorps booth at Pack Expo 2015, Booth C-5428, in Las Vegas, September 28-30, 2015.
Featured Product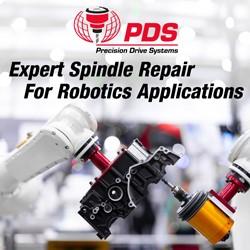 Precision components machined by CNC robot machining systems require compact, lightweight, and high-speed motorized spindles capable of delivering higher efficiency, performance, and reliability than those used in many other industries. That's why manufacturers of milling, cutting, trimming, grinding, polishing, and deburring trust Precision Drive Systems (PDS) to provide accurate and dependable spindle repair to perform to the most exacting standards.