Over ten machines at the show will demonstrate the new smart services initiative. At the same time, more than 20 Pro Mach brands will showcase over 15 new solutions and over 70 machines. Contiguous booths organized by group and application will help attendees quickly find answers to their packaging questions (Pro Mach Booth C-3423)
Cincinnati, OH September 23, 2015

Pro Mach, Inc., a leading provider of integrated packaging products and solutions, introduces at Pack Expo Las Vegas 2015, September 28-30, a comprehensive solution for remote monitoring for overall equipment effectiveness (OEE) reporting and remote service/tech support. Twelve Pro Mach machines at the show are equipped with the new ProTech by Pro Mach technology and will display OEE data via large screen monitors, smart phones, and tablets. (Pro Mach Booth C-3423)
ProTech helps small, medium, and large organizations obtain the highest possible uptime and throughput. This ensures that capital investments in solutions from Pro Mach equipment brands are optimized over the service life of the packaging machine and/or integrated packaging line. A white paper on ProTech is now available for download at http://www.ProTechbyProMach.com.
The security and redundancy engineered into the ProTech cloud-based solution is comparable to that used by the worlds leading financial institutions. Building on this secure foundation, Pro Mach engineers created a smart services infrastructure that is optimized for both individual packaging machines and integrated packaging lines. ProTech is only available from Pro Mach brands.
ProTech Remote Monitoring levels the playing field between small to medium sized companies and larger ones in terms of providing all sizes of organizations with the ability to optimize machine performance based on OEE data. ProTech reporting supports the continuous improvement and greater competitiveness of the packaging line. Remote Service has the potential to reduce service times when a machine is down from days, in the case when a technician has to be dispatched to the packaging line, to a matter of hours or minutes.
The Pro Mach one-stop-shop of more than 20 packaging solution brands
At the show, there are 17 new solutions and over 70 machines on display by Pro Mach brands, as well as a fully integrated end of line packaging system featuring pharmaceutical case packing, palletizing, and stretch wrapping demonstration. The more than 20 Pro Mach brands have been organized for the first time at Pack Expo into group islands where linked solutions will give the attendee a solid overview of available stand-alone machines as well as the opportunity to learn more about integrated solutions within and across the groups. Brand personnel will be available to walk attendees to different booths and make appropriate introductions. Information about sections or whole packaging lines may be accessed in this manner.
Pro Mach Group Islands at Pack Expo include: Bottling & Capping, Flexible Packaging, Primary Packaging, Labeling & Coding, Material Handling, and End of Line.
"Pack Expo is the one show of the year when the entire Pro Mach family of brands is together and can demonstrate both individual solutions and collaborations that help customers package more at less cost," said Mark Anderson, President and CEO, Pro Mach. "Our culture of best in class solutions that are enhanced by company-wide initiatives such as the new ProTech smart services technology make our offerings of highest value to our customers."
For more information about Pro Mach, call 866-776-6224 and visit http://www.ProMachInc.com for a complete listing of brands and solutions.
About Pro Mach
Pro Mach is a leading provider of integrated packaging and processing products and solutions for food, beverage, consumer goods, pharmaceutical, and other diverse companies. Through its brands, Pro Mach provides product packaging and processing equipment, PMMI certified training, installation, parts, and service in Bottling & Capping, Primary Packaging, Flexible Packaging, Material Handling, Labeling & Coding, and End of Line.
Pro Mach has a diverse customer base, from Fortune 500 companies to smaller, privately held businesses worldwide, which depend on reliable, flexible, technologically advanced equipment and integrated solutions. Pro Mach is headquartered near Cincinnati, Ohio, with manufacturing facilities and offices throughout the United States, Canada, Mexico, and Europe. For more information about Pro Mach, visit http://www.ProMachInc.com.
Featured Product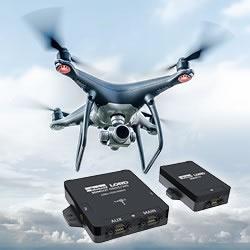 The new complete inertial navigation solution comes with GNSS/INS 3DMGQ7 sensor, 3DMRTK correction modem and real time SensorCloud RTK correction network. The sensor comes with Dual antenna GNSS, tactical grade IMU with centimeter-level accuracy with RTK. Low profile and light weight at 78 grams, this sensor is The sensor is optimized for size and weight in Unmanned Ground Vehicles, mobile robots and autonomous vehicles. The network interface 3DMRTK modem is seamlessly integrated into the 3DMGQ7 sensor supports industry-standard NMEA and RTCM 3.1 protocols. The network RTK support comes with cellular data plan. The SensorCloud RTK is a cloud-based RTK correction system with private encrypted data stream. Check out our G Series and C Series OEM products.