Ultimaker Provides Simple Step-By-Step Guides For 3D Printing Users On-The-Go
(AMSTERDAM) - Ultimaker, a leading 3D printer manufacturer, launched a new mobile app that provides easy access to tech support at home or on-the-go for their users. The app offers set-up instructions, step-by-step guides and troubleshooting for every printer in the Ultimaker line—the Ultimaker Original+, Ultimaker2, Ultimaker2 Go and Ultimaker2 Extended. Releasing the new app upholds Ultimaker's commitment to making 3D printing easy and accessible for anyone who wants to push the boundaries of creation. The Ultimaker app is available for iOS and Android and can be downloaded for free at the App Store and Google Play.

"Our team created the Ultimaker app to provide customers with a resource that includes answers to any question they may have as well as step-by-step guides for the endless capabilities of Ultimaker printers," says Ultimaker CEO Siert Wijnia. "This is the perfect tool to introduce more people to the world of 3D printing and continue to make 3D printing easy and accessible for everyone."
The Ultimaker app's features include:
· Get Started: The app includes a list of what is included in the box and step-by-step guides to get started assembling and creating with Ultimaker.
· Support Guides: 3D printing guides including the basics, maintenance, troubleshooting and other guides are provided with simple steps.
· Stories: Catch up on the latest inspiring 3D printing stories and get new ideas from the Ultimaker professional community.
· Personal Support: Get help from an expert for any personal 3D printing problems.
When customers buy an Ultimaker product they're entitled to free technical support for as long as they use it. In addition to the new app, Ultimaker hosts online forums that provide a great culture of helping and sharing from experienced makers. Most of the contributors are very technically minded and happy to offer tips and advice. Ultimaker also has detailed support pages available at users' convenience, curated and created by expert makers. The customer's official point of sale can offer technical support and knowledge. And lastly, Ultimaker has a technical support team to offer help by phone and email to help in isolating the cause of a problem, finding parts and providing solutions.
About Ultimaker
From the very beginning Ultimaker's vision has been to make 3D printing accessible to all. It is why all their desktop printers are extremely quiet, fast, accurate, reliable and effortless to use. Such a commitment has seen them embraced both by professionals and novices alike. This has also helped them to become one of the most successful and reliable open source 3D printing companies in the world. Most recently, the company was awarded best in shootout 2015 in the established Make Magazine, the editors' choice by Digital Trends and best Consumer Product at the 3D Printshow Global Awards 2014. To learn more about Ultimaker, visit: https://ultimaker.com/.
Featured Product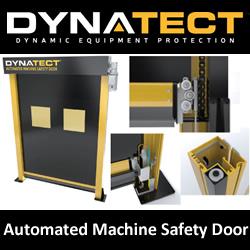 Dynatect's Gortite VF (Vertical Fabric) Automated Machine Safety Door is intended for automation and safe machine access to minimize cycle time and maximize production time. The automated roll-up door separates machines with hazardous operations from other processes, material handling equipment, and people. The Gortite VF Door contains typical machine/process generated hazards including light debris, fluid splatter/mist, and weld smoke/sparks/flash.