Sonoco Alloyd, Omega Design, Piab to Showcase Baxter
BOSTON, Sept. 28, 2015 /PRNewswire/ -- As Rethink Robotics introduces its new Sawyer robot to the packaging world for the first time, the company's category-creating first product, Baxter, will be showcasing its popularity and versatility in several different booths around the show floor at PACK EXPO 2015.

Last week, Rethink Robotics announced the availability and global deployment of its new high-performance collaborative robot, Sawyer, which will be making its first appearance at a packaging industry trade show in Rethink's booth #S-8178. While Sawyer will soon be on factory floors across the globe, Baxter is already widely used by manufacturers in packaging applications because the robot is agile, adaptive and able to perform tasks in similar ways to people.
Sonoco Alloyd, Omega Design and Piab will all have Baxter robots working on a wide range of applications in their booths, a testament to the flexibility and versatility of this proven solution for packaging.
"Manufacturers often struggle to implement effective and affordable automation in packaging tasks, as changes in parts, demand and product specs create problems for traditional robots designed for single-task installations," said Jim Lawton, chief product and marketing officer at Rethink Robotics. "Baxter, and now Sawyer, are enabling many companies to automate packaging tasks by bringing flexibility and efficiency to the factory floor."
A unit of global packaging leader Sonoco, Sonoco Alloyd deploys Baxter as part of fully automatic packaging assembly machines to deliver innovative packaging solutions to its customers. Baxter loads products onto the machine then removes packages after they have been sealed. At PACK EXPO, Sonoco Alloyd will be showcasing a fully automatic packaging assembly unit with Baxter working in conjunction with an Aergo 8 blister heat sealing machine.
Omega Design, a provider of highly engineered packaging automation and serialization solutions, is displaying Baxter as part of a semi-automated case packing task for pharmaceutical supply chain security. At Booth C-4409, Baxter will be working on Omega Design's Intellipac case packing solution for serialization. Even more importantly, Omega is using Baxter as part of a workforce development effort in conjunction with local schools to help train a more skilled workforce to aid the future of American manufacturing.
An innovator and manufacturer of a complete line of vacuum pumps, suction cups and more, Piab works closely with many companies in the packaging marketplace to develop effective suction end effectors for Baxter. At PACK EXPO, Piab will use Baxter to demonstrate the capabilities of its vacuum end effectors for pick and place tasks, critical to the packaging industry.
For more information please visit www.rethinkrobotics.com.
About Rethink Robotics
Rethink Robotics is transforming the way manufacturing gets done, with smart, collaborative robots able to automate the 90 percent of tasks that until now, have been beyond the reach of traditional automation. Its Baxter and Sawyer robots, powered by the Intera software platform, adapt to real-world variability, can change applications quickly and perform tasks like people do. The result: manufacturers of all shapes, sizes and industries get the fast-to-deploy, easy-to-use and versatile automation solution they need to increase flexibility, lower cost and accelerate innovation.
Based in Boston, the Rethink product suite is available in Asia-Pacific, Europe and North America. The company is funded by Bezos Expeditions, CRV, Highland Capital Partners, Sigma Partners, DFJ, Two Sigma Ventures, GE Ventures and Goldman Sachs. For more information about Rethink Robotics, please visit www.rethinkrobotics.com and follow us on Twitter @RethinkRobotics.
Featured Product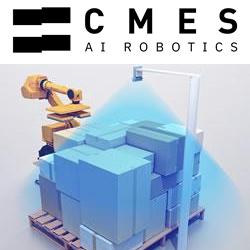 Powered by AI, CMES Robotics enables 3D vision for factory robots. CMES AI vision software enables robots to recognize unstructured, flexible, or deformed objects, pick them up, and loading and unloading. CMES Vision software has been deployed worldwide for random palletization and depalletization along with void filling applications. CMES Robotics automates your warehouse, logistics, and supply chain. For more information, please visit: cmesrobotics.com or email info@cmesrobotics.com.