On October 6, 2015 Shyft Advanced Manufacturing will host an open house from 3PM - 7PM at its Woodinville facility located at 20004 144th Ave NE, Woodinville Washington 98072 to celebrate its most recent accomplishments in achieving both UL and ISO 9001:2008 certification.
WOODINVILLE, Wash., Sept. 28, 2015 -- Shyft Advanced Manufacturing is offering a glimpse into its advanced facility by celebrating its achievements of earning both UL and ISO 9001:2008 certification with an open house.

Shyft Advanced Manufacturing began operations in December 2014 with the clear intent to challenge the all too common old school approach to plastics manufacturing. The company's initial focus was to build a sustainable foundation supported by reliable systems. Shyft AM now combines a cloud enabled ERP business system with newer equipment and robotics including multi-shot technology. Since its start, with a mix of seasoned molders and industry diverse talent, Shyft AM has implemented multiple best in class practices to provide product and component companies with a craft manufacturing solution based on honest relationships focused on creating win-win partnerships. In May 2015, the Shyft AM Team set out to have its processes validated.
"Receiving the third party validation is a big accomplishment in a short period of time for a new Manufacturing business and a testament to what our Team can accomplish," said Shyft AM President/Owner, Joe Stanik. "We are excited about our craft manufacturing service offering and look forward to opening our doors and celebrating with our friends, vendors, customers and future customers."
Shyft AM consistently practices a high degree of flexibility in terms of technology and process efficiency to deliver quality products on time with the firm belief that communication is a key ingredient to success. The Shyft AM knowledge, information and technology approach to craft manufacturing solutions matter to the Company's smaller and mid-sized partners who are personally connected to their products.
About Shyft Advanced Manufacturing
Founded in 2014, Shyft AM and Shyft Designs specialize in craft manufacturing services centered on plastic injection molded products. Equipped with single and multi-shot injection molding machines ranging from 40 Ton - 600 Ton, Shyft guides customers from ideation to production, or at any point in-between. Our engineering services focus on "design for manufacturability", while production, assembly and decorating services are focused on quality and efficiency. Shyft AM holds both ISO 9001:2008 and UL certifications. www.shyftAM.com
Featured Product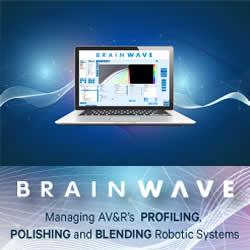 The AV&R team has developed a software for our robotic machines with the mission to make robotics accessible to everyone. This software is the glue which orchestrates the interaction between the system components in a single user-friendly interface. Comparing our machines to ourselves as humans, this software would be the control center of all faculties of the body, hence its name: BrainWave.