Students from Engineering & Emerging Technologies program in Oakland County schools will learn about robot and robotic system manufacturing
AUBURN HILLS, Mich. (September 28, 2015) - In celebration of National Manufacturing Day on October 2nd, ABB Robotics will host a tour of its Auburn Hills facility for high school students from Oakland County interested in manufacturing and the skilled trades. The students will learn about robot and robot system manufacturing firsthand at ABBs North American robotics headquarters. The event is intended to celebrate modern manufacturing and encourage careers in the industrial sector.

ABB is one of 28 Oakland County manufacturers who will be hosting tours, giving the 400 participating students the opportunity to see the operations of businesses in industries that closely match their interests. Over the course of the day students will also learn how to get the training needed to qualify and excel in the many manufacturing job opportunities available in Oakland County. All students are enrolled in the Engineering & Emerging Technologies program at their individual high schools.
"We look forward to hosting this event. This is a great opportunity to inspire our workforce of tomorrow," said Christelle Keefer director of training, ABB Robotics. Oakland County, Oakland Schools, Oakland Community College and Oakland County Michigan Works! worked together to plan the event, designed to help address the shortage of skilled trades workers in the area. National Manufacturing Day officially occurs every year on the first Friday in October.
About the ABB Robotics facility in Auburn Hills:
· In May 2015 ABB announced that it is to start producing robots in the Auburn Hills, making it the first global industrial robotics company to fully commit and invest in a North American robotics manufacturing footprint. The new plant is ABBs third robotics production facility, alongside Shanghai, China, and Västerås, Sweden, and will manufacture ABB robots and related equipment for the North American market.
· ABB Robotics employs approximately 500 people at the Auburn Hills facility, which consists of 95,000 sq. ft. of office space and 330,000 sq. ft. of manufacturing space
· ABB is a full service business in North America, making robots, pre-engineered robotic cells, sub-systems, and full automation lines, all supported by an extensive, regionally customer service network. Key markets include automotive and transportation, food & beverage, metalworking, material handling, aerospace, heavy diesel and electronics.
Featured Product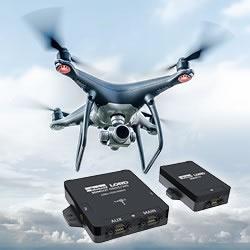 The C-series high performing inertial sensor package provides an OEM form-factor that is optimized for size and weight in Off Highway, Unmanned Ground Vehicles/Mobile Robots and Unmanned Aerial Systems. It's compact and low-profile anodized aluminum housing can be connected directly to a printed circuit board using a UART header or a Samtec FFSD ribbon cable and 2-56 fasteners.