National Celebration of Manufacturing Includes Tours, Special Events
BOSTON, Sept. 30, 2015 -- Action Bearing, among the largest independent distributors of ball and roller bearings in the United States, looks forward to joining manufacturers and educators nationwide in celebrating National Manufacturing Day.

The company will open their doors from 11:00 a.m. - 4:00 p.m. on October 2, 2015, to invite the public to learn more about bearings, their applications and their process. Specialty parts on display will range from a 5mm bore to 360mm. Informal dress is acceptable.
The event will also feature complimentary refreshments and giveaways.
Rolling bearings are a fundamental part of most machines, and can be found across a wide range of industries — robotics, steel mills and processors, ski areas, food and beverage, automotive facilities and more. If you've driven a car or used a household tool, odds are strong that you've counted on a bearing.
"We're excited to host visitors and answer their questions," said Action Bearing President, Steve Katz. "We'll have the team on hand to talk about materials, managing load and speed, clearances, specialty bearings, how our process works — the whole story. We love taking part in events like Manufacturing Day; it gives us a chance to get people involved and show them what we do."
October 2, declared Manufacturing Day nationwide, opens the manufacturing industry to the public through educational programs, tours, Q&A sessions, digital presentations, open houses and more. Working in collaboration with STEM educators and participants like Action Bearing, the event aims to bring awareness and inspiration to aspiring engineers and their communities.
A New England staple, Action Bearing has supplied bearings and technical parts to the region and niche markets across the country for over fifty years. With 25,000 square feet of inventory and bearing experts on hand at all times, the team primarily offers top-of-the-line service to Original Equipment Manufacturers and Maintenance users across industries.
Action Bearing is committed to customer service and education, not only on Manufacturing Day but every day of the year. To learn more about their services, products and immediate shipping opportunities, visit www.actionbearing.com. To learn more about MFG Day and other area participants, call the team today at 617-782-1400, email skatz@emersonbearing.com, or register on mfgday.com.
Featured Product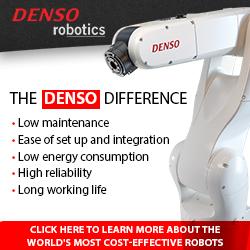 DENSO is the world's largest manufacturer - and user - of small assembly robots, employing over 17,000 of its robots in its own facilities. Over 77,000 additional DENSO robots are used by other companies worldwide. The compact, high-speed robots are used in traditional manufacturing sectors, as well as in advanced-technology applications in the medical, pharmaceutical and life sciences industries. Learn more about DENSO Robotics