Demos include a compact welding robot, a three robot welding system with 20 axes of coordinated motion, a TIP-TIG production welding cell and YuMi, ABBs new dual arm collaborative robot
AUBURN HILLS, Mich. (October 19, 2015) - ABB will feature a portfolio of advanced technology robotic welding demonstrations at FABTECH 2015, November 9th -12th at McCormick Place in Chicago (Booth #N6054). The demos include a compact welding robot that is easy to program and mount in small spaces, a track motion welding system with three ABB welding robots, each dressed with welding equipment from leading industry manufacturers, and a robotic TIP TIG welding cell. The booth will also feature YuMi, the first FABTECH appearance of the worlds first truly collaborative dual-arm industrial robot that ABB introduced earlier this year.

ABB is a leading supplier of welding robots and complete robotic welding packages, from entry level systems for smaller parts, to the most intricate, highly engineered systems for heavy, large frame welding. With industry proprietary software innovations that reduce programming complexity, ABB robots and modular systems can easily handle small batch runs of highly diverse parts. The ABB family of robots includes a selection of integrated dressing models that deliver 15% shorter cycle times, lower operational costs and greater flexibility.
Further detail on the ABB FABTECH 2015 booth displays:
· Wall-mounted IRB 1200 for Arc Welding: The compact IRB 1200 is certified for many applications in all mounting arrangements. Its small footprint, large work envelope and flexible controller options (single phase compact controller or full size IRC5 controller) make it ideal for the simplest to the most advanced arc welding applications. The demo features a new interactive robot programming concept using advanced gesture recognition, reducing programming time by allowing users to simply point to the desired weld paths.
· New IRBT 2005 Track Motion: A cost effective track specially designed for arc welding and material handling. The demo features track motion, three IRB 2600ID welding robots and a positioner, all combined into a 20-axis coordinated motion welding system for optimized line concepts. The MultiMove setup is demonstrating intricate welding on a mixing screw with helical flights. The demo also displays the simplicity of fitting ABB robots with the latest technology from the major welding equipment manufacturers such as Fronius, ITW-Miller and Lincoln Electric.
· Robo-TIP TIG Welding Cell: A production version cell that integrates the revolutionary, patent pending TIP TIG welding package with user-friendly robot automation and ABBs advanced robot controller. A pre-engineered cell combined with TIP TIG technology provides improved tolerance of joint fit-up gaps, higher travel speed and lower heat input in a production environment, delivering the high quality of GTAW and the performance and robustness of GMAW.
· YuMi: YuMi can operate in very close collaboration with humans due to its inherently safe design, and is specifically designed to meet the flexible and agile production needs of small parts assembly and material handling applications. It has a lightweight, yet rigid magnesium skeleton covered with a floating plastic casing, wrapped in soft padding to absorb impacts. YuMi is also compact, with human-like dimensions and movements, making human coworkers feel safe and comfortable.
· ABB Customer Service Kiosk: A presentation of the organization and network that allows ABB customers to maintain their robotic equipment in peak operating condition. ABB Customer Service offerings include free 24/7 technical phone support, quick delivery of spare parts, and comprehensive field services, featuring preventative maintenance programs, programming, system service and onsite support. ABB Customer Service also offers complete programming and operational training, and the repair, reconditioning and re-commissioning of pre-owned robots.
Featured Product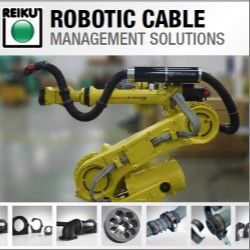 REIKU's Cable Saver™ Solution eliminates downtime, loss of revenue, expensive cable and hose replacement costs, maintenance labor costs. It's available in three sizes 36, 52 and 70 mm. All of the robots cables and hoses are protected when routed through the Cable Saver™ corrugated tubing.The Cable Saver™ uses a spring retraction system housed inside the Energy Tube™ to keep this service loop out of harms way in safe location at the rear of the Robot when not required. The Cable Saver™ is a COMPLETE solution for any make or model of robot. It installs quickly-on either side of the robot and has been tested to resist over 15 million repetitive cycles. REIKU is committed to providing the most modular, effective options for ensuring your robotic components operate without downtime due to cable management. www.CableSaver.com