Cosen Saws launches a cloud-based machine monitoring technology that is intuitive and user customizable. MechaLogix monitors blade performance, accurately forecasting complete breakage and the number of remaining cutting hours left before a saw blade dulls and is no longer cutting with precision. MechaLogix also reports real time machine performance data which equates to more efficient operations.
CHARLOTTE, N.C., Oct. 7, 2015 -- Cosen Saws, a leading global manufacturer of industrial band saws, has introduced MechaLogix Cosen Predictive Computing - a cloud based system that revolutionizes the metalworking and fabrication industry with an innovative feature that monitors the performance of a blade. This new technology can accurately forecast a complete breakage and the number of remaining cutting hours left before a saw blade dulls and is no longer cutting with precision.

"Know the unknown - now you can," said Joshua Sun, Business Development Manager for Cosen Saws. "This completely changes the game for cloud based machine monitoring systems. Our customers have told us how important it is for them to minimize waste and scrap. Having a blade fail in the middle of a cut is one of the primary causes and it negatively impacts profits."
"With our technology, both operators and management will know the remaining useful life on a band saw blade," Mr. Sun added. "Gone are the days of tracking machine hours and accumulated cutting area. Now you have advance knowledge of the days and hours before a replacement saw blade is required. That's what MechaLogix Cosen Predictive Computing does."
MechaLogix also gives you real time performance data and can report issues like excessive vibration, overheating and changes in fluid line pressure. The root cause of an issue is reported in real time which equates to minimal down time and more efficient operations.
The technology is intuitive and user customizable. Adjustable alert notification settings work seamlessly with the mobile app. "We have been delighted with the enthusiastic response from our customers who have partnered with us during the course of the program", said Mr. Sun.
The first public demonstration of MechaLogix takes place at EMO MILANO from October 5-10th, 2015. On November 9-12th, the unveiling of the product in the United States will happen at the Fabtech 2015 trade show being held at McCormick Place in Chicago, IL.
The comprehensive program includes:
Blade Life Assessment -MechaLogix provides monitoring and alert notification of a saw blade's remaining useful life and advance notice of required saw blade replacement.
Increased Machine Efficiency & Machine Life -Real time analysis of individual components and overall machine health status includes notification of abnormal conditions from motors and bearings and also alerts on frequent consumable items like hydraulic and cutting fluid.
Increased Operational Efficiency - The technology provides production reports to aid in identifying best practices and training needs. MechaLogix's advanced monitoring and notification system alerts the operation when machine maintenance is needed, increasing efficiency in the scheduling of planned events.
For more information, go to www.MechaLogix.com
Featured Product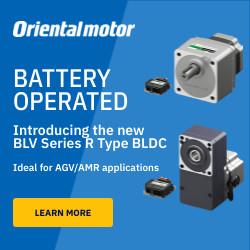 The BLV Series R Type brushless DC motor (BLDC motor) speed control system offers the design of motor and driver significantly reduced in size and weight, yet high-power, and contributes to the battery driven automation. The BLV Series R Type is compatible with the two interfaces of Modbus (RTU) and CANopen communication.