2015 FABTECH show Chicago from Nov. 9-12
GRAND RAPIDS, Mich., Oct. 13, 2015 -- Eisele Connectors, a subsidiary of one of the world's leading suppliers of high-quality, all-metal connectors, will be displaying and discussing its broad range of superior connector solutions for the manufacturing industry at its booth (#N9107) during the 2015 FABTECH show Chicago from Nov. 9-12.

The company will also unveil a new series of fittings called LIQUIDLINE, engineered for use in closed loop cooling systems in harsh welding environments, that offers benefits beyond traditional fittings.
"As a first time exhibitor, we're excited to display and discuss our solutions at FABTECH 2015," Michael Jones, director of sales, Eisele Connectors. "So many of our products offer benefits to automotive and industrial manufacturers that this is the perfect event to network and share what we have to offer."
Eisele's portfolio of connector products - which have been used by manufacturers in Europe for decades, especially by those in the automotive industry - spans more than 5,000 catalog items and more than 2,000 custom solutions. From its North American warehouse and its growing service and distribution network, Eisele can quickly supply customers in the automotive, pharmaceutical, food & beverage, aerospace, manufacturing industries with engineered connection components for pneumatics, vacuum, liquid, gas and electronic equipment.
Fittings and accessories from Eisele can be used in many applications, including on equipment used in automotive and aerospace assembly, mechanical and electrical engineering, paint & varnish applications, food & pharmaceutical production, packaging, welding, wind energy production and more.
To learn more about FABTECH, North America's largest metal forming, welding and finishing event, please visit: http://www.fabtechexpo.com/
About Eisele Connectors
Eisele Connectors, Inc. is a subsidiary of Eisele Pneumatics GmbH & Co. KG, which emerged from a company founded in 1939. With more than 70 years of experience in precision machining, Eisele is one of the world's leading suppliers for high quality all-metal connectors and developing custom connector solutions.
Drawing from the company's proven German manufacturing depth, Eisele's North American facility keeps a robust stock of products and can optimally supply its customers and respond quickly to fulfill needs. The company is part of a global logistics network that guarantees fast availability of products to the global market and is a member of the American Welding Society (AWS), the Society of Automotive Engineers (SAE), the Society of Manufacturing Engineers (SME) and the Association for Hose Accessories Distribution (NAHAD).
Learn more at http://www.eisele-connectors.com/
Featured Product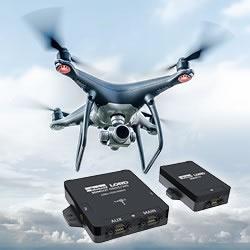 The new complete inertial navigation solution comes with GNSS/INS 3DMGQ7 sensor, 3DMRTK correction modem and real time SensorCloud RTK correction network. The sensor comes with Dual antenna GNSS, tactical grade IMU with centimeter-level accuracy with RTK. Low profile and light weight at 78 grams, this sensor is The sensor is optimized for size and weight in Unmanned Ground Vehicles, mobile robots and autonomous vehicles. The network interface 3DMRTK modem is seamlessly integrated into the 3DMGQ7 sensor supports industry-standard NMEA and RTCM 3.1 protocols. The network RTK support comes with cellular data plan. The SensorCloud RTK is a cloud-based RTK correction system with private encrypted data stream. Check out our G Series and C Series OEM products.