The Blue Print Files Of the Latest Ultimaker 3D Printer Models Are Available To the Public
(AMSTERDAM)- Ultimaker, a top 3D printer manufacturer, is leading the open source 3D printing movement by sharing the files for all of their 3D printers with the public. Working to foster a community collaboration of like-minded people to share ideas and inspire other users, Ultimaker is dedicated to improving its 3D printing technology to reflect what the customers really want. By turning its audience into a development partner, Ultimaker expects to learn and understand the best ways to improve its product to fit the needs of the 3D printing community.

"Ultimaker is committed to sharing new designs, functions and updates with our customers to give them the freedom to 3D print to the best of their ability." says Siert wijnia, founder of Ultimaker. "Being open source enables quick iterations and innovation which pushes the boundaries of the impossible every time. It means our innovations are community-powered and the focus lies not only on what we think is important, but also allow our users to grow and transform with us as we develop new technology."
For more information about Ultimaker, please visit www.ultimaker.com.
ABOUT ULTIMAKER
From the very beginning Ultimakers vision has been to make 3D printing accessible to all. It is why all their desktop printers are extremely quiet, fast, accurate, reliable and effortless to use. Such a commitment has seen them embraced both by professionals and novices alike. This has also helped them to become one of the most successful and reliable open source 3D printing companies in the world. Most recently, the company was awarded best in shootout 2015 in the established Make Magazine, the editors choice by Digital Trends and best Consumer Product at the 3D Printshow Global Awards 2014. To learn more about Ultimaker, visit: https://ultimaker.com/.
Featured Product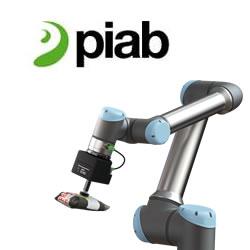 Piab's Kenos KCS gripper enables a collaborative robot to handle just about anything at any time. Combining Piab's proprietary air-driven COAX vacuum technology with an easily replaceable technical foam that molds itself around any surface or shape, the gripper can be used to safely grip, lift and handle any object. Standard interface (ISO) adapters enable the whole unit to be attached to any cobot type on the market with a body made in a lightweight 3D printed material. Approved by Universal Robots as a UR+ end effector.