The drone maker also announces the first Made for Solo products as well as major new development partnerships with Epson, JK Imaging (Kodak) and Fiilex.
DUBAI, UAE, October 19th, 2015 ­- 3DR, North Americas largest consumer drone manufacturer, launched a new third-­party product partnership program called "Made for Solo" at GITEX Technology Week in Dubai. The Made for Solo program supports companies that want to leverage 3DRs Solo "Smart Drone" platform and its open hardware bays and dual computer processing power. Made for Solo also offers partners access to 3DRs technical and research resources and official 3DR endorsement of a products compatibility with Solo. The program also marks the beginning of the "drones &" movement, as companies across an array of industries will now begin applying new and purpos-e­built hardware and software to drones for a variety of specific uses; Made for Solo provides these partners with the easiest way to get started on drone development.

"In the past, drone development was limited to dedicated engineering departments within drone companies themselves," says Chris Anderson, CEO of 3D Robotics. "Were excited that our open platform is already paying dividends with Made for Solo, opening opportunities for drone development to a range of companies from a range of industries. Were about to experience a real sea change in this industry."
Several new Made for Solo accessories are already in the program and will soon be showcased on the 3DR website. Additionally, 3DR is announcing the first three major Made for Solo industry partnerships—Epson, Kodak and Fiilex—who already have Solo accessory products under development and scheduled for later release.
"Fiilex is very excited to enter the emerging drone market by leveraging the Made for Solo program," said Brent Siebenaler, Brand Manager of Fiilex. "Were looking forward to creating some great and innovative lighting products for Solo."
"We're excited by the launch of the Made for Solo program and have been busy perfecting a suite of augmented reality flight assistance tools," said Eric Mizufuka, product manager, Moverio AR Glasses for Epson America. "The Made for Solo program is a great opportunity for Epson to gain direct access to 3DRs top pilots, makers, and developers."
And Paul Meyhoefer, VP of Marketing & Product Development for JK Imaging Ltd., said, "The Made for Solo Program has opened the Virtual Reality door for our KODAK PIXPRO SP360 Action Cams to be used in a variety of new ways. Matched with Solo, the SP360s ability to capture 360° full spherical video with its unique lens and perspective lends itself perfectly to being a vital tool for creatives to develop and take their VR to new heights."
Made for Solo is accessible to any company or individual that wants to take their technologies to the sky. All interested parties can apply to the program through a form available on the companys website 3dr.com/MFS­apply. The company expects the program to continually grow and evolve, with Solo evolving in step with it.
"The Made for Solo program is the beginning of what we think will be an exponential expansion of our ecosystem, with many companies both in the drone industry and in other industries adopting the Solo platform," said Colin Guinn, CRO of 3D Robotics. "From the beginning weve made the promise to customers that Solo will be more than just a drone, it will be a platform for aerial innovation, and its exciting to see that promise coming to fruition so quickly. Honestly, theres been a deluge of these new products, and we cant wait to see what creative people and companies will do now to enhance the Solo experience."
In conjunction with these efforts, 3DR also offers comprehensive developer support on multiple levels. At the highest level, dev.3dr.com offers all of the resources for anyone to develop on Solo. Inside dev.3dr.com is 3DRs open software development platform called DroneKit, which is a streamlined and simple interface that allows anyone to create customized drone apps. When combined with the Made for Solo program, these resources make it easy for developers anywhere to tap into new Made for Solo products and contribute even more functionality. And because the company has its roots in the largest open robotics community in the world — diydrones.com — it expects that this development community will contribute to exponential advancements through the synthesis of open hardware and open software that the Made for Solo program will catalyze.
You can learn more about the Made for Solo program by visiting 3dr.com/MFS.
About 3DR
3DR is the smartest and most technologically advanced drone company in the world. Lead by New York Times best­selling author and editor­in­chief of WIRED magazine, Chris Anderson, 3DR creates technologies and professional tools specifically designed to make drone photography easy for beginners and pros alike. With a Series C round of V.C. funding led by Qualcomm, 3DR is the first company to fully integrate drone and smartphone technology. For more information on 3DR, please visit http://www.3drobotics.com/.
About JK Imaging, Ltd.
JK Imaging, Ltd., is a privately held company headquartered in Los Angeles, California, with additional sales offices worldwide. The executive team is comprised of experienced sales and marketing officers with extensive backgrounds in digital imaging and global distribution. JK Imaging, Ltd. services North America, South America, Europe, Asia and the Middle East. For more information, visit www.kodakpixpro.com.
About Fiilex
Fiilex designs and manufactures high quality LED lighting products for the image capture industry. Incorporating patented Dense Matrix LED technology, Fiilex produces portable and powerful specular sources that boast high Color Rendering Index (CRI) and dynamic color tuning capabilities. Since the initial announcement of the brand in January 2013, Fiilex has released numerous revolutionary LED lighting fixtures and a variety of innovative light modifiers. In a very short span, Fiilex has won major contracts in the North American broadcast market and established a wide dealer network around the world. Fiilex is one of the most sought after new lighting brands in the market.
About Epson
Epson is a global innovation leader dedicated to exceeding expectations with solutions for markets as diverse as the office, home, commerce, and industry. Epson's lineup ranges from inkjet printers, printing systems and 3LCD projectors to industrial robots, smart glasses and sensing systems and is based on original compact, energy­saving, and high­precision technologies.
Led by the Japan­based Seiko Epson Corporation, the Epson Group comprises more than 72,000 employees in 94 companies around the world, and is proud of its ongoing contributions to the global environment and the communities in which it operates. Epson America, Inc. based in Long Beach, Calif. is Epsons regional headquarters for the U.S., Canada, and Latin America. To learn more about Epson, please visit: www.epson.com.
Note: Specifications are subject to change without notice. EPSON and Moverio are registered trademarks of Seiko Epson Corporation. All other product and brand names are trademarks and/or registered trademarks of their respective companies. Epson disclaims any and all rights in these marks.
Featured Product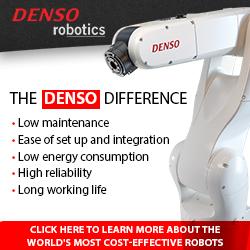 DENSO is the world's largest manufacturer - and user - of small assembly robots, employing over 17,000 of its robots in its own facilities. Over 77,000 additional DENSO robots are used by other companies worldwide. The compact, high-speed robots are used in traditional manufacturing sectors, as well as in advanced-technology applications in the medical, pharmaceutical and life sciences industries. Learn more about DENSO Robotics