Distributor purchases two RIVA systems to meet initial demand from Chinese hospitals
(WINNIPEG, Manitoba - October 20, 2015) - ARxIUM, developer of industry-leading pharmacy automation and workflow solutions, today announced Silver Wing Asia-Pacific International Medical Technology Company will serve as the exclusive distributor of RIVA technology in mainland China. RIVA, the only fully automated compounding system on the market today, prepares syringes and IV bags in an aseptic ISO Class 5 environment, which significantly enhances safety and reduces pharmacy waste.

"Expanding our global reach and meeting growing customer demand remain top priorities," said Dr. Niels Erik Hansen, president and CEO of ARxIUM. "We have distribution agreements across the Middle East, much of Europe and were now expanding in Asia-Pacific. This strategic partnership with Silver Wing positions ARxIUM for many opportunities with some of the largest, most respected hospitals in China."
Due to immediate demand with ARxIUMs unmatched automated compounding technology, Silver Wing has ordered two RIVA systems for installation at Chinese hospitals. The company and its affiliates provide all aspects of logistics and storage automation solutions for hospitals in China. Silver Wing also develops guidance standards for refined hospital management and efficiencies, and customizable technology applications to increase productivity and workflow.
"The introduction of RIVA in China is a significant milestone, as it allows healthcare providers to achieve precise pharmacy delivery and management," said Benny Zhang, CEO of Silver Wing. "Ensuring patient safety has become paramount in China, and ARxIUMs award-winning RIVA technology has accurately prepared millions of doses globally. In addition, RIVA helps hospitals reduce expensive pharmacy waste and provides numerous environmental safeguards for staff, which aligns with the Chinese healthcare reform target."
About ARxIUM
Based in Winnipeg, Manitoba and Buffalo Grove, Illinois, ARxIUM delivers best-in-class technology and unparalleled expertise to help pharmacies of all sizes improve safety, productivity and efficiency. The company provides scalable, comprehensive solutions for every segment of the pharmacy market. ARxIUMs offering includes automated compounding, packaging and dispensing, compliance packaging management, inventory control and storage, workflow and scheduling software, production and workflow design, and technical consulting and implementation assistance, among other services. The company is the first to offer a Total Dose Solution, a customizable, end-to-end solution for oral-solid and IV dose preparation. For more information, visit www.arxium.com.
Featured Product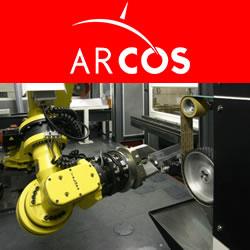 Robotized system for automatic cutting and grinding turbine blades , starting from the rough product. The system is equipped with fully automatic component loading and unloading.